November 15, 2023
Do Compustar Remote Starters Work on Diesel Vehicles and Trucks?
If you own a diesel-powered vehicle, you may have wondered if a remote starter system would work for your engine. After all, diesel engines function differently than their gasoline counterparts. Well, we're here to dispel any doubts: Compustar remote starters are fully compatible with diesel engines.
---
How Compustar Safely Remote Starters Diesel Engines
Starting a diesel engine, especially in cold weather, requires the glow plugs to warm up sufficiently before the engine turns over. Ignoring this process might result in failed start attempts or even engine damage.
Compustar remote starters incorporate a feature called "Diesel Timer" or "Diesel Wait-to-Start". This provides an appropriate delay ensuring the glow plugs are warm, thus preventing premature engine start and potential damage.
The diesel wait-to-start timer on Compustar systems can be set from 3-99 seconds, or triggered by the glow plugs OR the "wait to start" light on your dashboard. Compustar installers have used both methods for over 20 years to provide diesel vehicle owners with a hassle-free remote start experience.
---
Seamless Integration with Your Diesel Car or Truck
Compustar remote start systems are compatible with over 90% of American and Asian-made diesel vehicles in North America. Our proprietary technology, KLON, discreetly mimics your key's RF signal to remotely start your engine without a physical key. However, the vehicle won't be drivable without the physical key, as the engine will shut down if someone attempts to put it into gear without the key.
Moreover, Compustar offers vehicle-specific installation harnesses using factory-style connectors, eliminating wire-cutting under your dashboard. This makes it easier to revert your vehicle back to stock in case of a trade-in or lease return.
---
Why Should I Upgrade My Factory Remote Starter
If your diesel vehicle is less than ten years old, it might already have a factory or dealership installed remote starter. However, these "OEM" systems often lack the remote range that makes remote starting convenient on cold winter mornings.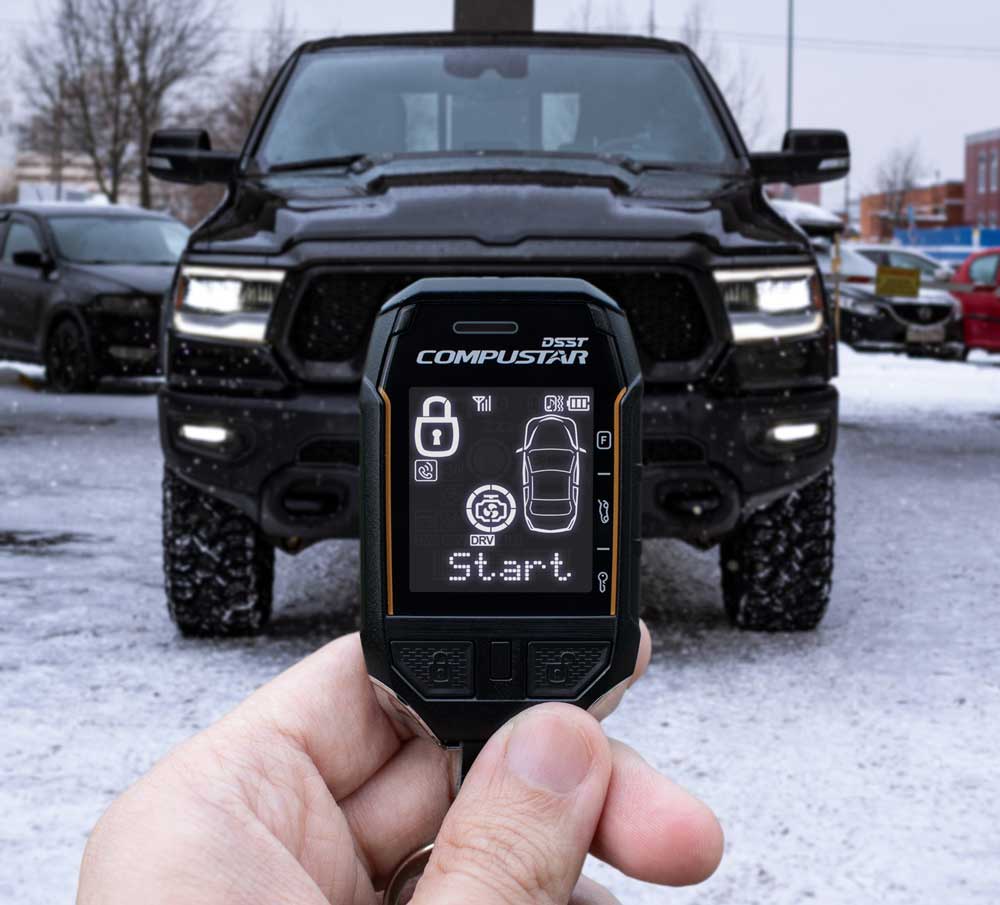 Compustar remote starters offer industry-leading range and features, like 2-way, to enhance your comfort and driving experience. Our top recommendation is the Compustar T12, which provides up to 3-miles of range and an LCD remote that can be recharged with a USB cable.
---
Upgrade Your Diesel Vehicle's Security
Theft and break-ins are a growing concern for owners of popular trucks like RAM, F-Series, or Tacoma. Compustar remote starters can be paired with an advanced DAS-II sensor and starter-kill to detect threats against your truck.
In case of an intrusion, Compustar remote starters will alert you on your 2-way remote or DroneMobile if your system is connected to your smartphone.
---
Can I Install a Compustar Remote Starter Myself?
Some things are better left to professionals. Due to the complexity of installing remote starters (even more so with a diesel engine), we recommend visiting one of our 2,000+ retailers across North America.
First, check your vehicle compatibility using the link below. Then, contact your nearby Compustar dealer/installer to get your remote start system installed today!