September 8, 2021
Why You Need 2-Way Alarm Alerts
If you're a Compustar fan you're likely no stranger to 2-way controls. However, if you don't have security alerts set up, then you're missing out on some of the best 2-way features Compustar has to offer. 2-way alerts allow your remote to send commands to your vehicle (e.g. lock or remote start) and confirm back when that command is successfully executed. 
Critical to car security, 2-way alerts instantly notify you whenever your car alarm is triggered – helping to prevent theft from the moment a break-in occurs. According to the National Highway Traffic Safety Administration, over 700,000 motor vehicles are stolen each year. Our goal is to reduce this number with our car alarms and security systems with 2-way alarm alerts.
What are 2-Way Alarm Alerts?
2-way alarm alerts allow your security system to send alerts straight to your remote when your car alarm is triggered. 2-way alarm alerts can be configured to page you the moment your vehicle senses shock, impact, glass-break, and tilt. The sooner you recognize that your car is harmed or in danger, the sooner you can take action!

Paging with 2-Way Alerts
Compustar's 2-way feature confirms with a series of beeps and on-screen animations when a command is successfully sent from your remote to your vehicle. Visual cues displayed on our LCD remotes let you know exactly when your engine has been remote started or shut down. 
Another benefit of 2-way remotes is the ability to confirm when your vehicle is armed and locked. This feature takes the guesswork out of traditional key fobs which require you to be near your vehicle to see or hear when your car is successfully locked. You can leave the parking lot with confidence knowing that your car is secure with 2-way alerts!
Car Alarm Security Features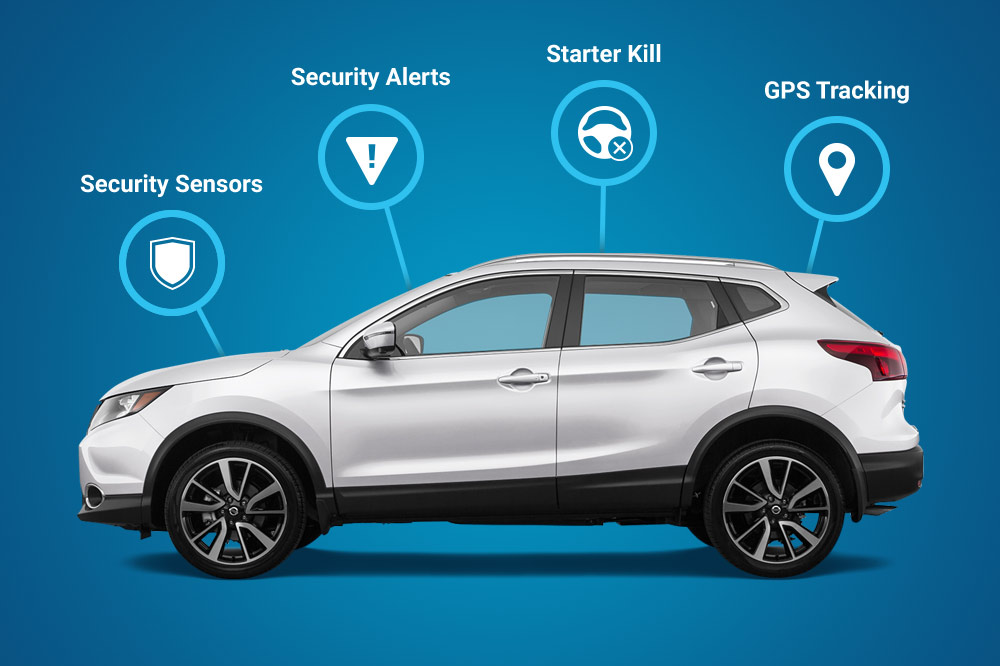 Compustar security systems include a wide variety of features that are perfect for 2-way remotes. These include:
Alarm alerts – In the event that your car alarm is triggered, you'll instantly receive security alerts directly to your 2-way remote.
Impact detection – The dual-stage shock sensor included in Compustar security systems detect impact and alert you when someone or something hits your vehicle. Compustar shock sensors can also distinguish the intensity of impact – from a light tap to a potential hit-and-run.

Tilt sensor – Vehicles equipped with the DAS-II security sensor detect tilt in your vehicle. Your alarm siren will sound, should the sensor detect tilt due to towing, theft, or impact. 
Glass-break sensor – The DAS-II glass-break sensor will send an alert to your 2-way remote as soon as the built-in microphones detect glass-break. This feature is crucial to detecting smash-and-grab situations and carjacking.
Starter-kill – Eliminate car theft by preventing thieves from starting your engine while your Compustar security system is armed.
GPS Tracking – Pair your alarm system with DroneMobile to get GPS Tracking on your smartphone for extra added security and comfort.
LCD Remotes with Security Alerts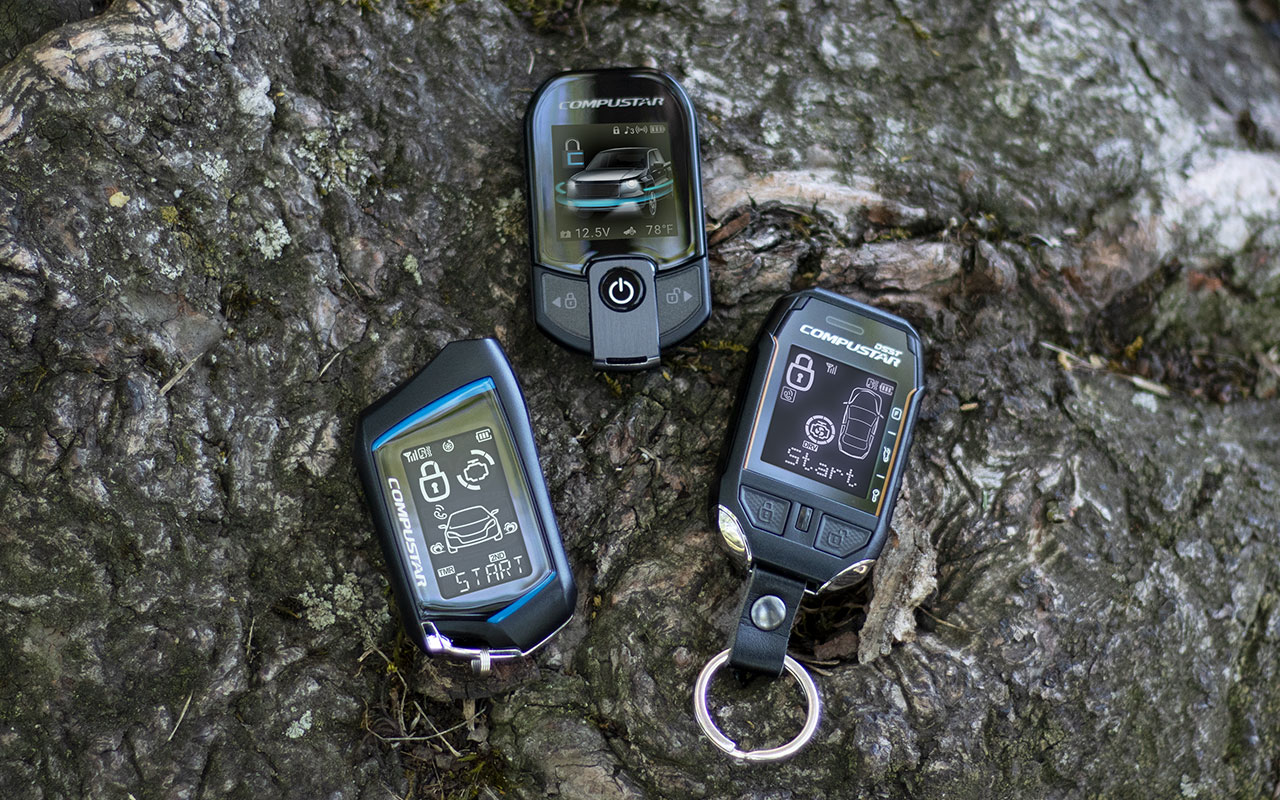 Interested in receiving security alerts from your alarm system? Check out our most popular 2-way remotes below:
PRO T13

– The most advanced remote start and security system to date, the PRO T13 features a vibrant full-color display, with up to 3-miles of max range, is micro-USB rechargeable, and includes our proximity unlock feature.

T12

– A crowd favorite, the waterproof T12 features a high-strength injection-molded body that's able to withstand everyday impact, while maintaining industry-leading range.

T9

– One of our best-selling remotes, the T9 features an interactive LCD screen that keeps you up to date on your vehicle's status all in one great value.
Looking for an all-in-one 2-way security solution? The CSX9900-AS remote start and security bundle has everything you need to keep your vehicle protected. This kit includes one of our most popular LCD remotes, the T12. The T12 is capable of monitoring your vehicle for impact, towing, glass breakage, and more with 2-way alarm alerts.
Also included in this bundle is the Drone X1-LTE Module which allows you to connect your car to your smartphone with the DroneMobile App. The LTE Module turns your smartphone into your backup remote. You can control your car and get instant alarm alerts directly to your smartphone for added accessibility and security.
Learn more about DroneMobile >
Secure Your Vehicle with 2-Way Alarm Alerts
2-way alarm alerts are a must-have in any car security system. They keep you updated on your vehicle's current status and let you know if your doors are locked. Most importantly, alarm alerts tell you when your vehicle detects impact, tilt, glass-break, and more!
Don't have a security system installed in your vehicle? Visit one of our 2000+ retailers to get an alarm system with 2-way alarm alerts, so your vehicle will always be secure. 
Visit your local Authorized Compustar Dealer today to find the right security system for you!