Summer is here, and with July around the corner, we are all about to experience the year's hottest temperatures. This heat will never be more apparent than when you enter your car after it has been parked in the sun. In just 10 minutes, the temperature of a parked vehicle can rise 20 degrees, and will feel significantly hotter than the air outside of the car.
So without further adieu, here are the reasons why you need a remote start this summer.
Cool down your car. – Have you ever blasted your A/C, only to get a huge wind of hot air blown into your face? Starting your engine 5-10 minutes before you enter your car will give your A/C system a chance to cool down.
Decrease air pressure. – A huge reason why the temperature inside of a car on a hot day 'feels' so much hotter is because of the increased air pressure. Turning on your engine will allow the air circulation to start beforehand.
Black leather seats…enough said. – In direct sunlight, black leather seats will quickly turn from a luxury into a burn risk. Unless you're wearing slacks on a 90˚ day, the best protection against hot seats is a remote start!
One very important note: a remote start does NOT make it safe to leave children, pets, or anybody for that matter inside of a parked vehicle on a hot day. Avoid taking children to places that are not kid-friendly (same goes for pets), ALWAYS make sure to check your back seat before leaving your car, even if it is only for a "quick stop".
Lastly, our team has made a couple recommendations for Compustar remote car starters that will give you the best experience of cooling down your vehicle this summer!
PRO T13 – This system has a remote with an LCD screen that confirms when you've successfully remote started your vehicle. The LCD also displays status features such as inside temperature and battery voltage.

PRO R5

– The PRO R5 is a simple 2-way remote that has one button, capable of sending four commands: remote start, stop engine, lock, and unlock!
PRO Series products including the PRO T13 and PRO R5 are exclusively available at Compustar PRO dealers. Visit our Dealer Locator and select the "Display only PRO dealers" box to find a PRO dealer near you!
Sources:
Consumer Reports – http://www.consumerreports.org/cro/news/2010/07/tips-for-driving-in-the-summer-heat/index.htm
Titan Insurance – https://www.titan.com/child-car-safety-hot-cars.jsp
Red Cross – http://www.redcross.org/news/article/Red-Cross-How-to-Stay-Safe-in-Hot-Weather
It's the middle of winter and the snow is coming down hard. Your car that's parked outside is probably frozen over, and you're dreading the idea of getting into it. You think to yourself, "If only there was a way to heat my car up before I get in it." Well, you're just in luck! Remote car starters do just that!
What is a Remote Starter for a Car?
Car remote starters are systems that allow you to start your vehicle from a distance by either using a remote fob or a smartphone app. Basic systems allow you to turn your vehicle off and on, but more advanced systems allow you to add on additional convenience and car security features.
How Do Remote Start Systems Work?
Remote start systems consist of 2 key parts: a control module/radio receiver and a remote transmitter. The control module is installed into your vehicle, which allows you to remotely start your vehicle with the push of a button on the remote transmitter.
Remote starters are most popular in colder climates, where they are used to warm up a car's engine and activate its heater/defroster. This is especially convenient during winter months when it's snowing and temperatures are subfreezing. However, they can also be used to turn on the a/c in extremely hot climates.
Factory vs After-Market Remote Start
Many new vehicles today have the option of including a factory remote start system, but they are very limited in terms of their range and capabilities. Typically, a factory remote starter has around 30-feet of range, which requires you to be fairly close to your vehicle to start it.
After-market remote start systems, on the other hand, not only offer superior range, but a large array of other features as well. For example, Compustar offers remote start systems that are capable of 800-ft to 3-miles of range, and have the option of upgrading to a 2-way remote. 2-Way remotes allow you to send commands to your vehicle and receive confirmation that they were activated. A few Compustar remotes also feature water-resistant technology, interactive LCD screens and the ability to charge them via USB.
Another advantage of after-market remote start systems, particularly Compustar, is that you also have the option of adding/upgrading it to include an advanced security system. Compustar security systems equip your vehicle with additional sensors to detect impact, intrusions and theft, and when paired with a 2-Way LCD remote, notify you when those sensors are triggered.
To see the full potential of a Compustar system check out the PRO T12 Remote Start + Security System.
It's without question that Compustar remote start systems are the best option for remote starting your vehicle!
Do I Need to Give up a Key?
As car keys get more complex and costly, it has become increasingly important to get a remote starter that doesn't need one of your keys to work. Thanks to KLON, a proprietary technology used by Compustar, there's no need to give up a key if your vehicle is compatible.
KLON mimics your car's key signal to securely start your engine without the key being physically present in the vehicle. Compustar's use of KLON technology is one of the many things that make our systems the best remote starters!
What Do I Need For A Remote Start System?
If you're considering installing a remote start system into your vehicle, you'll the need the following key components:
Remote Start Control Module
Remote Transmitter
Professional Installer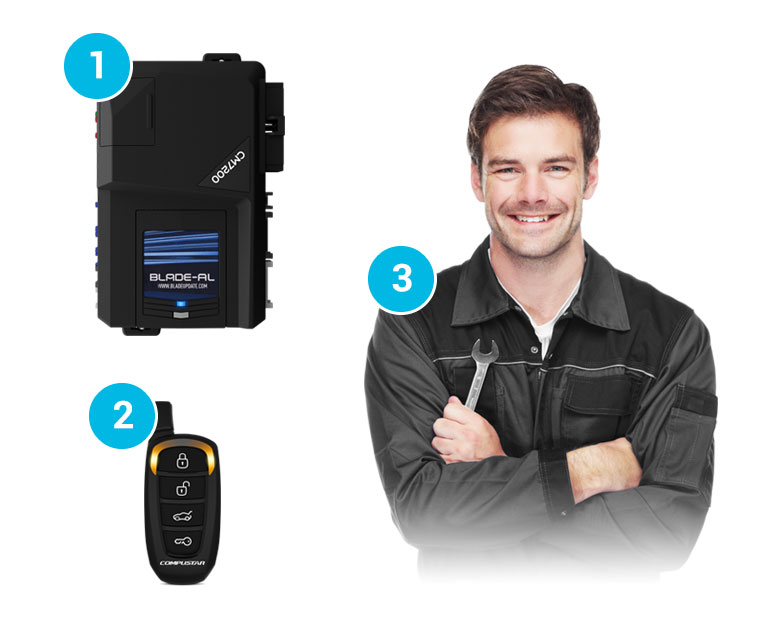 The most important component, and is often overlooked, is the professional installer. Installers can not only assist you in finding the perfect remote start control module and remote transmitter combo for your needs, but they can guarantee a safe and professional install. It is extremely important to get a remote start system professionally installed because making a mistake during installation could potentially cost you more money and headache.