Remote starters are a great upgrade for any vehicle, but how much does a remote starter cost? If you're looking for a quality system, it can sometimes be difficult to understand what the true cost of the hardware and labor will be, but we're here to help solve that mystery for you.
How Much Does a Remote Starter Cost?
Based on a brief survey of remote start dealers, a basic, short-range remote starter installed on a non-luxury vehicle will range from $249.99-$399.99. The price you'll be quoted will largely depend on the year, make, and model for your vehicle.
You're tired of sitting in an ice box every morning on your commute and so you decide to shop for a remote start system to heat up your vehicle. Naturally, you're going to hop on Google or Amazon and search "remote starter". Here's what you'll find: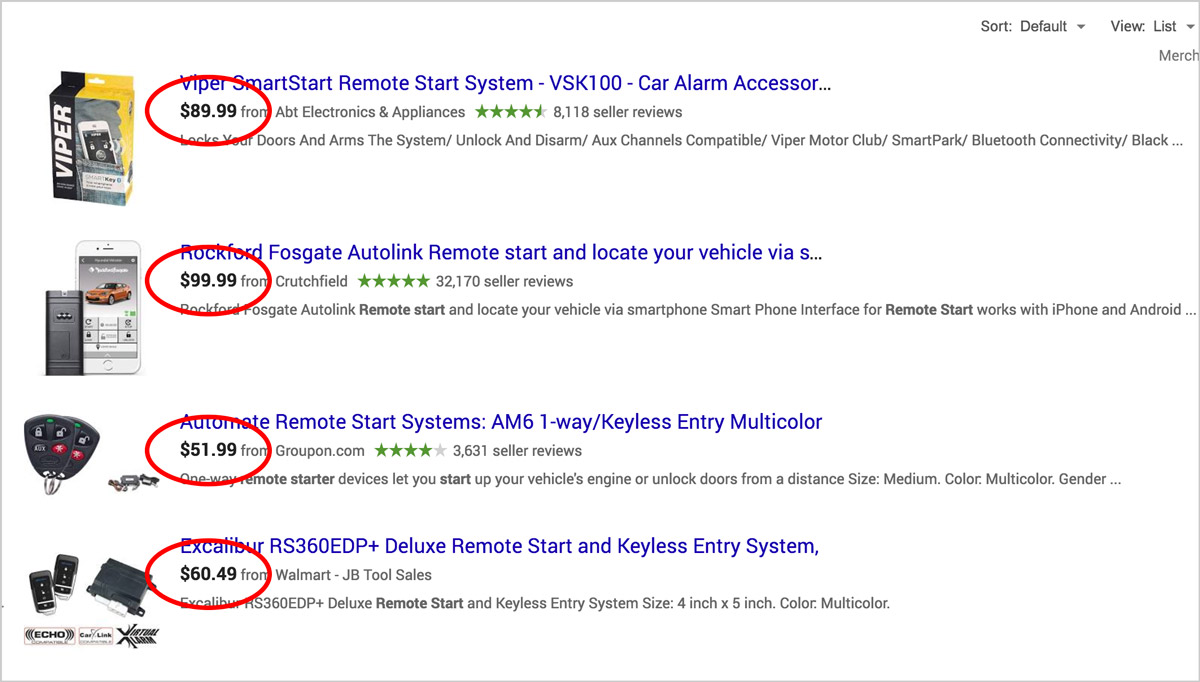 Purely going off these results, you'll see prices anywhere from $50 to $100.
However, there are two CRUCIAL flaws with these results:
These prices do NOT include installation.
Most remote starters sold online are NOT under warranty.
Either of these reasons should sway you away from buying one of these systems. Unless you are a certified 12-volt automotive electrician, you should not attempt to install a remote starter on your own. You can risk hurting yourself, your vehicle, and your wallet in case repairs to either are necessary. Instead, visit a professional retailer, who understands remote starts and is comfortably installing the brand of your choice.
The Differences Between Factory and Aftermarket Remote Starters > 
So how much will a retailer charge me for remote start?
As mentioned above, the amount a retailer charges is largely based on the year, make, and model of your vehicle. The average Compustar remote start installers offer systems plus installation in that typical range of $249.99-$399.99. There are several things that factor into this cost. 
Different vehicles use different mechanisms for starting the engine. A professional installer will understand how to integrate a remote start system with these mechanisms, to ensure the car is being remotely started safely and securely. It is very important to contact your local retailer prior to visiting the store to make sure they are able to install a remote starter onto your specific vehicle. That said, if you contact one retailer and they say "No", don't fret! Try another retailer, as retailers often have varying levels of comfort with different vehicles.
3 Quick Tips to Find a Great Car Alarm & Remote Start Installer >
I found a Groupon online for a $149.99 remote starter WITH installation. Is this legit?
The short answer is: probably. Online deals for remote start systems sold with installation often advertise a starting price. You may incur some additional costs for any of the following:
Extended-range remotes
Bypass integration modules (required for most newer vehicles)
Luxury or certain vehicle makes
Manual-transmission vehicles
Keyless entry or trunk-pop functionality
The key is to read any fine-print on such promotions, and to be proactive with your communication to the retailer. Most of the time, retailers are not trying to rip customers off, and there is generally a simple explanation for any increase in costs as certain factors make an install more complex.
Compustar's 4 Steps to buying a remote starter:
Regardless of what brand of remote start you'd like for your vehicle, our team at Compustar suggests following these steps when purchasing a remote start.
Use an Authorized Dealer search tool to find professional retailers & installers near you.
Contact your retailer in advance to check your vehicle's compatibility as well as the shop's availability.
Ask about upgrading your remote range or adding 2-way to your remote starter.
Always make sure you purchase and install your remote starter at the same location.
If you're interested in a Compustar system, try going through our Compustar System Builder to find the system that best fits your needs.
If you are a vehicle owner, you most likely worry about motor vehicle theft when you lock up and walk away from your car each day. Those fears are validated because, in the past two years, motor vehicle theft rates have bounced back – increasing 10%. "Smash and grab" car break-ins are still a frequent occurrence across North America; particularly plaguing drivers in metropolitan cities like Seattle, San Francisco, and Philadelphia (Insurance Information Institute, iii.org). Thankfully, an automotive security system can help protect your vehicle from motor theft. 
While the introduction of "smart key" fobs and immobilizers has reduced motor theft via hot-wiring, thieves are continuing to cost drivers billions of dollars a year in damage and stolen goods. In 2020 alone, $7.4 billion was lost due to motor vehicle theft and intrusion. Thus, it is absolutely essential that drivers do whatever they can to deter, detect, and prevent theft of their vehicles.
In this article, we will cover the major differences between your car's factory alarm system and a Compustar security system – plus the advantages of upgrading your vehicle's security with Compustar.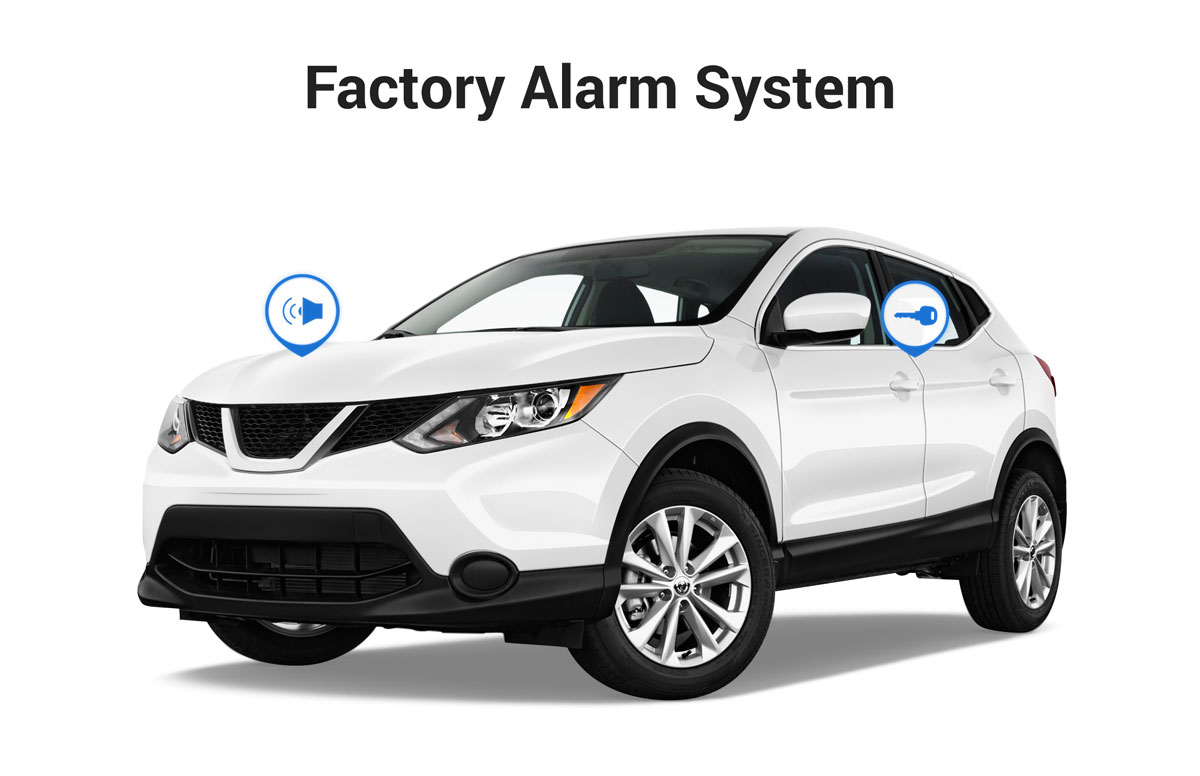 The above diagram outlines the basic security features that come standard for a vehicle.
| | |
| --- | --- |
| | Keyless Entry – Most vehicles today come standard with a remote key fob that allows drivers to conveniently lock and unlock your doors from 30-40 feet away. While the vehicle is locked, your vehicle will monitor your doors – so if someone manages to open the door from the inside, the alarm will be triggered. |
| | Alarm – If an intrusion is detected (door opened while locked), the vehicle's alarm will start to sound, alerting people nearby. Most standard security systems that come with vehicles simply use the vehicle's horn. |
Are the above two features sufficient for protecting your vehicle? We at Compustar believe that every vehicle needs more protection from vehicle theft and intrusion.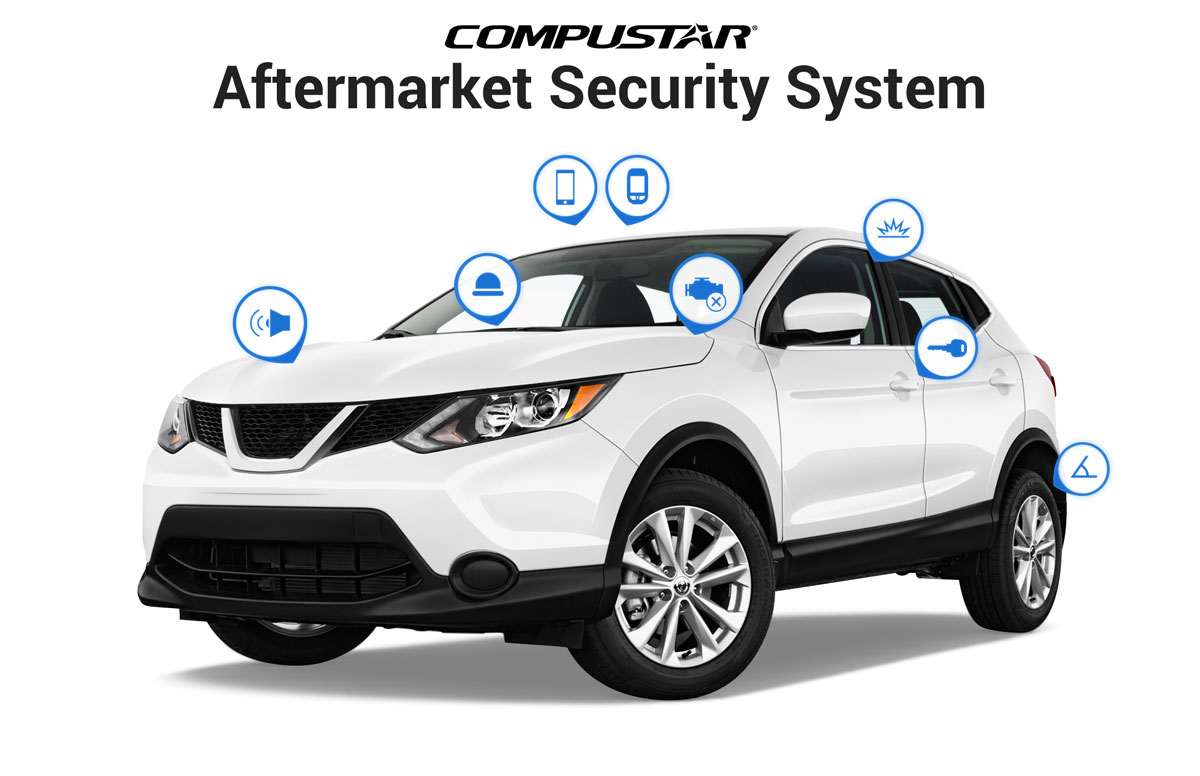 The above diagram outlines the advanced security features of Compustar systems.
Advanced Keyless Entry – All Compustar security systems include remote fobs that provide superior range, starting at 1000 feet all the way up to 3-miles.
Impact Detection – Compustar security systems include dual-stage shock sensors that detect two levels of impact – both of which provide unique warning chirps from the alarm siren.
Theft-Deterrent LED – If your vehicle has Compustar installed, your installer technician will place a small LED near the front of the vehicle. While your system is armed and doors are locked, this LED will blink a bright blue light – signaling to car thieves that your vehicle is protected by Compustar. Thieves will know better than to mess with your vehicle and will move on.
Starter-Kill – The ultimate solution for eliminating car theft. While your system is armed, Compustar will safely disable your vehicle's starter until you disarm your system from the Compustar remote. Even if a thief manages to get inside your vehicle, they won't be able to start the engine until the Compustar security system is disarmed.

Starter-Kill is a must-have feature, especially if your vehicle does not have an immobilizer that would prevent your vehicle from being stolen.

Tilt Sensor – As inconvenient as "smash and grab" can be, you know what's worse? Getting your wheels stolen. When you're shopping for a Compustar security system, make sure to request for the DAS. The DAS has a built-in tilt sensor that calibrates every time you lock and arm your vehicle. If the DAS detects 1-2º tilt in any direction, the alarm siren will sound. Learn More about DAS >
2-Way Alerts – Simple question: would you rather know or not know if your vehicle is being stolen/broken into? If you answered "know", you need a Compustar. Pair your Compustar security system with any of our 2-way LCD remotes or our smartphone application, DroneMobile, and you will be alerted as soon as your alarm is triggered. Learn More about Drone >
Alarm Siren – Our alarm siren is really loud. In most vehicles, Compustar installers will place the siren so that it is loudest inside of the vehicle, ensuring that anyone messing with your vehicle will have a terrible experience doing so.
---
How Much Does a Compustar Security System Cost?
Upgrading your vehicle's security doesn't have to be a bank-breaker. In fact, Compustar alarm installation starts at around $249.99, depending on the year/make/model of your vehicle. We highly recommend using our dealer locator and selecting an authorized dealer near you – in order to ensure that all components of your security system are properly installed, tested, and configured.
Learn more about car security systems – How to Choose the Best Car Security System
---
Top Compustar Car Alarms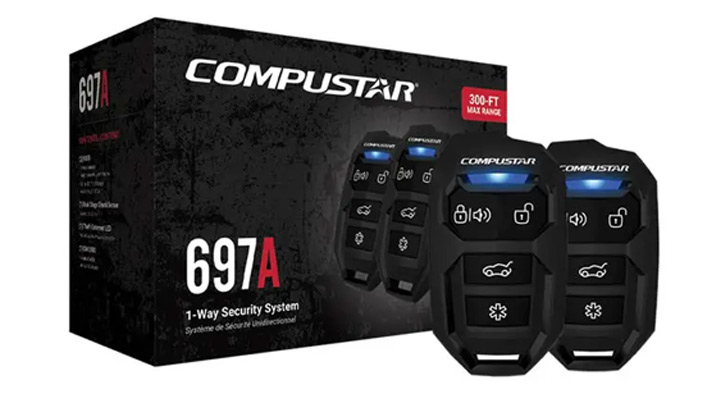 Good: CS697-A – 1-way, 200′ range alarm system

Keyless entry with 200′ of range
Impact detection
Theft-deterrent LED
Starter-kill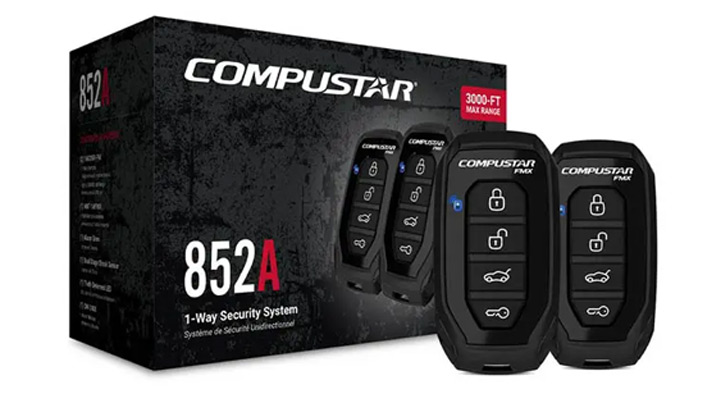 Better: CS852-A – 1-way, 3000′ range alarm system

Advanced keyless entry with 3000′ of range
Impact detection
Theft-deterrent LED
Starter-kill
105+dB alarm siren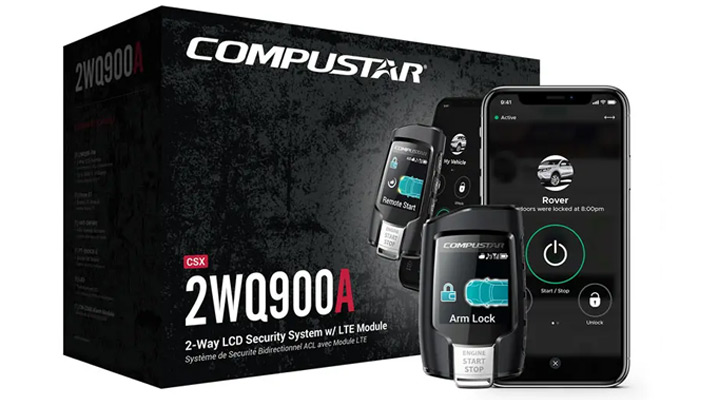 Best: CSX2WQ900-A – 2-way, 3000′ range alarm system with DroneMobile smartphone control

Advanced keyless entry with 3000′ of range
2-way alarm notifications
Impact detection
Theft-deterrent LED
Starter-kill
105+dB alarm siren
DroneMobile smartphone control with 30-day free trial
---
Final Thoughts
Compustar security systems equip vehicles with security features that detect, deter, and prevent motor theft. In addition, if your vehicle's security system is ever triggered, Compustar offers 2-way LCD remotes and a smartphone app that will alert you as soon as intrusion occurs.
While there isn't a solution that will prevent 100% of theft (aside from having Joe, the 7ft. tall bouncer, wait by your vehicle 24/7), we can assure you that you'll enjoy peace of mind knowing that Compustar has your back.
See how Compustar has connected with community Partners like Woodinville Bicycle to improve the security of their business' van.
Compustar remote starters provide best-in-class comfort by warming up your car in winter and cooling it down in summer. But can you enjoy the benefits of remote start with a manual-transmission? 
You may have heard the following 3 myths about installing remote start on manual transmission:
You can't start a car without your foot on the clutch.

Your car could start moving if it is left in gear or if the parking brake fails.

Somebody can steal your car while the engine is remote started. 
While all of these concerns are valid, Compustar is one of the few brands of remote starters that CAN be safely added to almost any manual-transmission vehicle. This is accomplished via clutch bypass, reservation mode, and built-in safety features. Not sure what these terms mean? Keep on reading to learn more!
---
Compustar remote starters simulate the clutch pedal to remotely start the engine.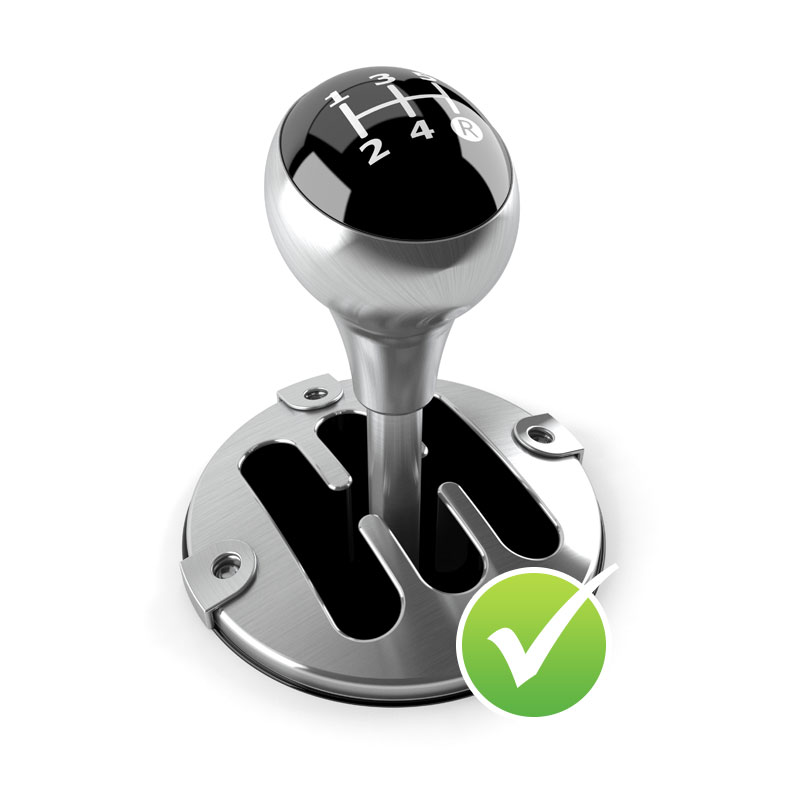 When installing a Compustar remote starter on a manual-transmission vehicle, an additional clutch bypass connection is required. This connection simulates the electronic signal produced by the clutch pedal, normally a ground signal sent to the vehicle's ignition system. This allows the engine to be remote-started even without the driver's foot on the clutch.
---
Compustar systems must be put into "reservation mode" to remote start.
In order to remote start a manual-transmission vehicle, the driver must activate "reservation mode". The purpose of reservation mode is to confirm that the vehicle is safe to remote start. Reservation mode is activated by doing all of the following:
Fully securing the emergency brake

Pulling the key from the ignition. The engine will continue to run, confirming that reservation mode is in the process of being activated

Exit the vehicle and lock the doors. Shortly thereafter, the engine will shut off, confirming that reservation mode has been set.
If any of the doors in the vehicle are reopened after activating reservation mode, reservation mode will be cancelled, preventing the vehicle from being remote-started. The reason for this is that if someone, for example, a child, re-enters a vehicle after it has been put into reservation mode, there is a slight chance that the parking brake may be disengaged. Thus, Compustar systems will only remote start the engine if it is 100-percent safe.
---
Even while remote started, Compustar systems prevent the vehicle from being driven without the key.
Key takeover is a feature of all Compustar remote starter systems that ensures that a vehicle cannot be driven without the physical presence of the actual key or fob. If the brake pedal is pressed to put the vehicle into gear, the system will detect whether or not the key is present inside of the vehicle. If not, the engine will immediately shut off.
Key takeover protects your vehicle from theft in the event of a break-in during remote start.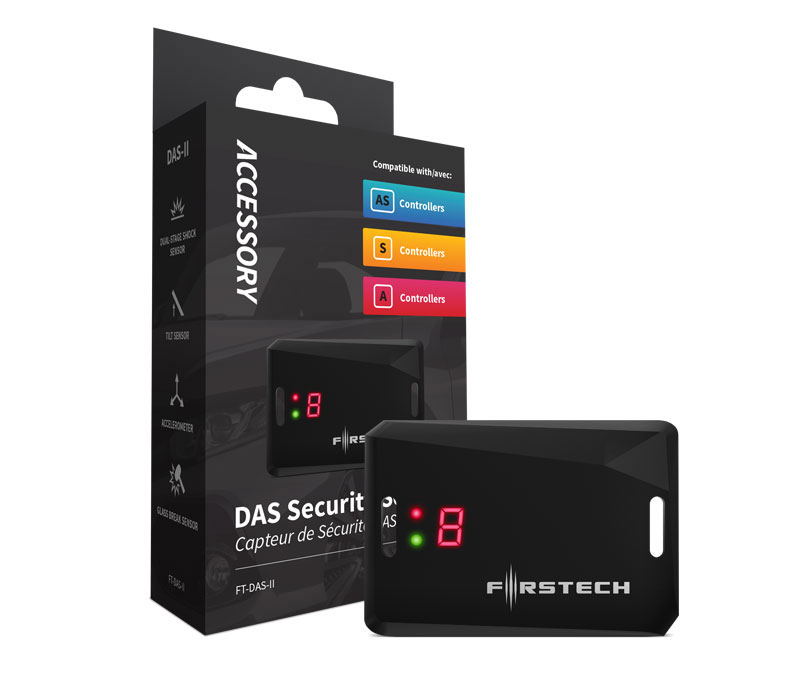 As an additional failsafe, Compustar remote start systems installed onto manual-transmission vehicles require an FT-DAS-II security sensor. This sensor has a built-in accelerometer that will immediately shut off your remote starter if it detects forward movement without the presence of the actual key inside of the vehicle.
Compustar remote starters are the safest solutions for manual-transmission vehicles. This is possible because of the additional safety features that Compustar has built into the company's CMX-Series control modules. While these additional safety features may result in a $50-$100 added cost on remote start installation for manual-transmission vehicles, stick-shift drivers will find that investment to be well worth it when they can remote start their vehicle with confidence and peace of mind.
---
Conclusion
Compustar remote starters are created with safety and convenience in mind for automatics, diesels, and yes, stick shifts! So, if you're interested in adding a remote start to your ride, contact one of our 2,000 Authorized Retailers in U.S.A. and Canada.
Summer is here – which means summer vacation, sunny weather, long days, and ice cream! However, all of these things also mean HOT, HOT, HOT weather.
Hot weather is not only uncomfortable, but it can also be dangerous – especially inside of a vehicle. Did you know that the inside of a car can get 30º hotter than the outside within 30 minutes?!
How Hot Can a Car Get?
Outside Temp (F)

Inside Temp (F)

10min
30min
70º
89º
104º
75º
94º
109º
80º
99º
114º
85º
104º
119º
90º
109º
124º
95º
114º
120º
Data provided by VeterinaryClinic.com
Why does this happen? When sun rays enter a vehicle, it not only heats up the air inside of your vehicle, but it also heats up your seats, your steering wheel, and that piece of chocolate you are saving for later. 🙁 As these things are heated, they radiate additional heat that gets trapped inside of your vehicle, raising the inside temperature of the vehicle significantly.
Because of this, it is CRUCIAL that you do NOT leave any child or pet inside of a vehicle on a day that is 65ºF or hotter under ANY circumstance. While the outside temperature may be comfortable, the inside of your vehicle will quickly turn into an oven and a hazard to any passengers who may not be able to easily exit the vehicle.
What if I Keep My Windows Cracked Open?
While cracking the windows may release some of the air pressure inside of your vehicle, the hottest air inside your vehicle is rising towards the roof. Unless there is a strong breeze, there is nothing pushing or pulling that hot air outside. Thus, cracking open your windows will only make a small difference in temperature.
---
How Can I Cool Down My Vehicle in Hot Weather?
Here are some options for keeping your car cool during the summer, ranked from easiest to most advanced.
Option 1: Park in the Shade

PROS
Free.
Keeps the entire car cool.
CONS
The sun moves, doesn't work all day.
Not always available – limits parking options.
Option 2: Get a Sunscreen

PROS
Keeps sun from entering the windshield.
Relatively inexpensive.
CONS
Doesn't keep the entire car cool.
Doesn't actually cool down the vehicle, only prevents overheating.
Not all sunscreens look great.
Option 3: Install a Remote Starter

PROS
Works in HOT and COLD weather.
Cools down the entire car within 5 minutes.
You can remote start from extended range with Compustar.
Works with most vehicles.
CONS
More expensive, depending on your car.
Consumes a very small amount of fuel.
---
If you are considering Option 3, Compustar Remote Starters are the #1 choice of installers in North America. Compustar Remote Starters are all backed by a Limited Lifetime System Warranty and can be controlled from your factory remote, a long-range aftermarket remote, or your smartphone with DroneMobile!
Earlier this winter, Compustar revealed the Q9 2-Way Remote Kit. We are now pleased to announce that the Q9 is available at all Authorized Compustar retailers.
For the past twenty years, Compustar's mission has been to provide the best vehicle remote start and security experience. Year after year, we've accomplished that mission through the premium quality and usability of our 2-way remotes. The Q9 will provide 2-way confirmation and security notifications from up to 3,000-feet away. This remote kit includes an FMX antenna, which features 128-bit encryption to ensure secure command transmission* between your remote and vehicle. All of these premium features are available at a great value, with the Q9 Remote Kit available for $299.99 MSRP.
*Fun Fact – Nearly all Compustar remote kits, with the exception of legacy AM models, feature some degree of "frequency-hopping" technology to prevent interception of transmission. Today, our FM, SS, and SF remotes provide the highest level of protection.
The Compustar Q9 Remote Kit is the perfect upgrade for any Compustar remote start or security system. We are especially excited to debut the Q9's new vibrant color LCD and 4-in-1 remote start button!
---
Vibrant Color LCD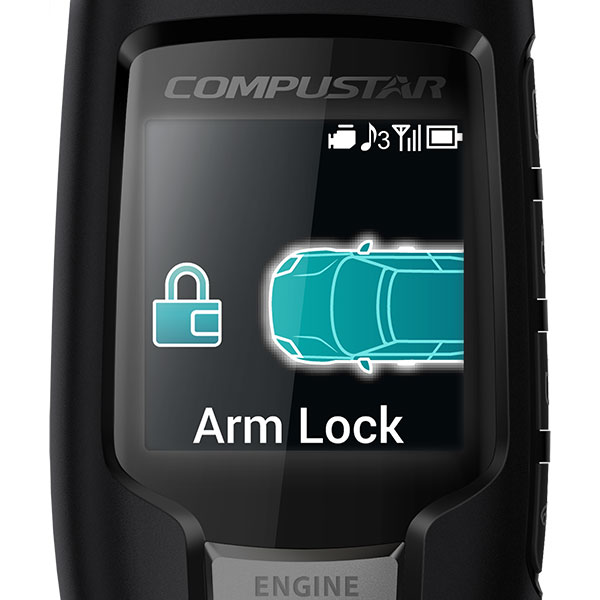 Compustar Q9 features a similar LCD to our PRO flagship, the PRO T13, but at a fraction of cost! The benefit of this high-contrast, backlit LCD is that you'll be able clearly see your vehicle's status in both sunny and dark conditions. Whether you're locking your doors at the park or the movie theatre, you'll know your vehicle is secure!
---
4-in-1 Button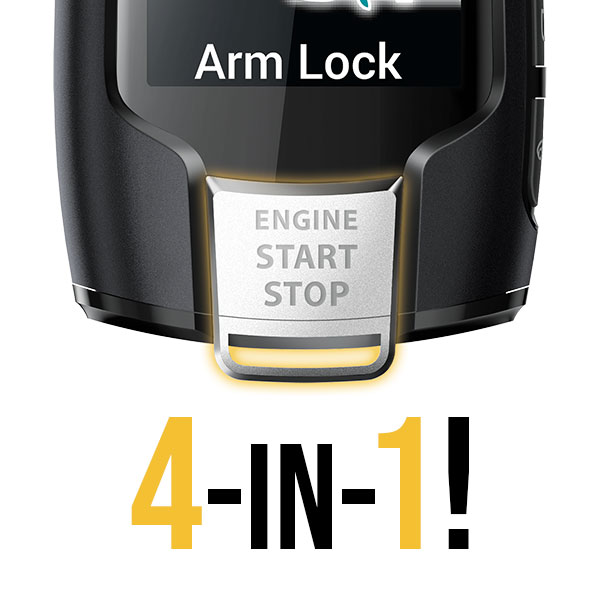 Compustar Q9 has five buttons. The side buttons are for lock, unlock, trunk, and menu. The button on the front of the remote is primarily for remote start. However, this front button can actually execute four different commands!
Tap the button to lock your doors and arm your security system.
Double-tap the button to unlock your doors and disarm your security system.
Hold the button down for 3 seconds for remote start.
While remote started, hold the button down 3 seconds to shut down the engine.
We made the Compustar Q9 this way simply for hand comfort. Because lock and unlock are arguably the two most accessed functions, we wanted to give users two ways to send these commands. Tap the button that feels most comfortable and convenient for you!
---
Compustar Q9 Price and How to Buy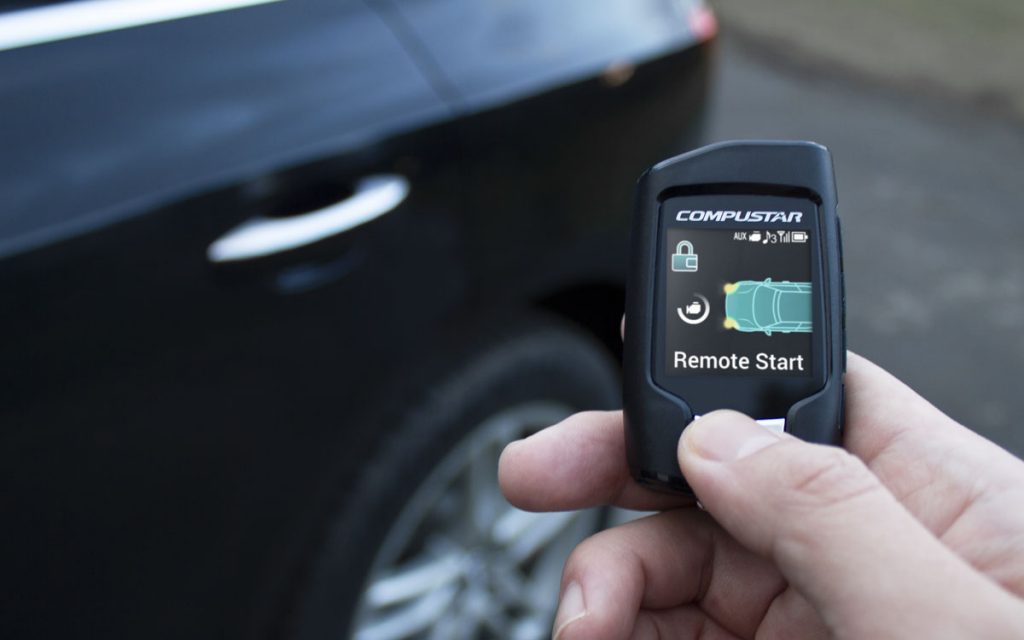 The Compustar Q9 (RFX-2WQ9-FM) remote kit is $299.99 MSRP. This price includes the Q9 remote, antenna, Drone X1 module with 30-day DroneMobile free trial, and 1-year warranty. Please note, this price does not include the cost of remote start and security installation. These parts are sold separately and prices vary by vehicle year, make, model.
If you are interested in adding the Compustar Q9 to your vehicle, contact any Compustar dealer* today!
*Compustar Q9 is not sold at Best Buy locations.
The biggest advantage of installing an aftermarket remote starter from Compustar is 2-way confirmation. With a 2-way remote, you can be confident that your vehicle will remote start even when you're far away and/or can't see your vehicle.
Even if your vehicle came with a remote start, it probably does not provide 2-way confirmation for remote start. So if you're at the store or at work, how are you supposed to know that your vehicle will be warmed up and ready to go? That is why we at Compustar always recommend upgrading to a 2-way system.
Did you know that Compustar offers TWO types of 2-way systems?
2-way L

C

D remotes provide confirmation on a small screen with audible chirps.
2-way L

E

D remotes provide confirmation with blinking lights and audible chirps.
---
2-Way LCD vs LED Remote Comparison
| | | |
| --- | --- | --- |
| | | |
| # | LCD Remotes | LED Remotes |
| 1 | Provides remote start confirmation on a screen | Provides remote start confirmation with blinking LEDs |
| 2 | Audible chirp for remote start success | Audible chirp for remote start success |
| 3 | Detailed vehicle lock/engine status shown on screen | No vehicle status |
| 4 | Batteries recharged via USB or replaced every 4-6 weeks | Batteries replaced every 12-18 months |
| 5 | Alarm trigger notifications with intrusion detail | No alarm notifications* |
| 6 | Similar in size to OEM remote keys due to screen & battery | Compact, thinner remotes – available in 1-button versions |
| 7 | Comes with DroneMobile in the USA | Comes with DroneMobile in the USA |
* The Compustar PRO R5 is the only LED remote that does provide alarm notifications. All other 2-way LED models do not provide alarm notifications.
---
Top 2-Way LCD Remote Starters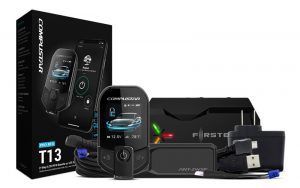 Compustar PRO T13  Product Page >
2-Way LCD Confirmation
3-Mile Max Range Remote
Proximity Unlock
2-Way Alarm Alerts
USB Rechargeable
PRO 3-Year Warranty
Smartphone Control with Drone LTE Module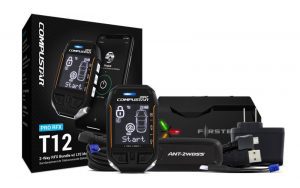 Compustar T12  Product Page >
2-Way LCD Confirmation
3-Mile Max Range Remote
IPX-7 Waterproof
2-Way Alarm Alerts
USB Rechargeable
1-Year Warranty
Smartphone Control with Drone LTE Module
---
Top 2-Way LED Remote Starters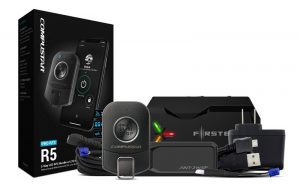 Compustar PRO R5  Product Page >
2-Way LCD Confirmation
3-Mile Max Range Remote
Proximity Unlock
2-Way Alarm Alerts
USB Rechargeable
PRO 3-Year Warranty
Smartphone Control with Drone LTE Module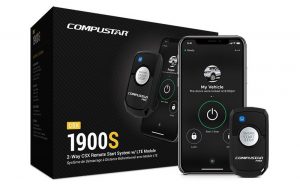 CSX1900-S  Product Page >
2-Way LED Confirmation
3,000-ft Max Range Remote
CM-900-S Remote Start
3X Lock Start (OEM Remote)
1-Year Warranty
Smartphone Control with Drone LTE Module
---
2-Way Remotes Come with DroneMobile?


That is correct! In the U.S.A., all Compustar 2-Way Remote Kits and Systems include a DroneMobile X1. "X1" is a module that adds LTE connectivity to your remote starter and alarm, enabling DroneMobile smartphone control from virtually anywhere!
In addition to your favorite remote start and keyless entry features, DroneMobile enhances your vehicle's security with GPS Tracking, Security Monitoring, Vehicle Status, Car Finder, Speed Monitoring, and Family Sharing.
DroneMobile does require a subscription for LTE connectivity, but comes with a 30-day free trial. Subscriptions are flexible and affordable, starting at $5.99/month. If your subscription ever does expire, you will always be able to use your 2-way LED or LCD remote.
---
Which one is right for you?
We at Compustar value our customers' peace of mind. Because of this, we recommend the additional assurance that LCD 2-Way remotes provide. That said, if convenience is key for you, we think a compact 1-button LED remote would also be a great choice.
If you're still not sure, please visit our new Compustar System Builder to find the perfect remote start system for you! If you are ready to start shopping for a remote starter, Find a Dealer near you today!
Every year, October seems to sneak up on us. After a month of adjusting to the end of summer and the kids being back in school, we suddenly find ourselves in the thick of fall and colder weather.
When cold weather and snow strike, we at Compustar feel there is no better way to brave the elements than adding a remote car starter to your vehicle. Remote starters make your car comfortable and safer to drive, while saving you time when your vehicles' windshields and windows are frozen over. 
Whether you are a first-time buyer or a remote start veteran, you may have some questions about how Compustar remote starters work. Here are the Top 7 Questions about Remote Starters.
---
How do remote starters work?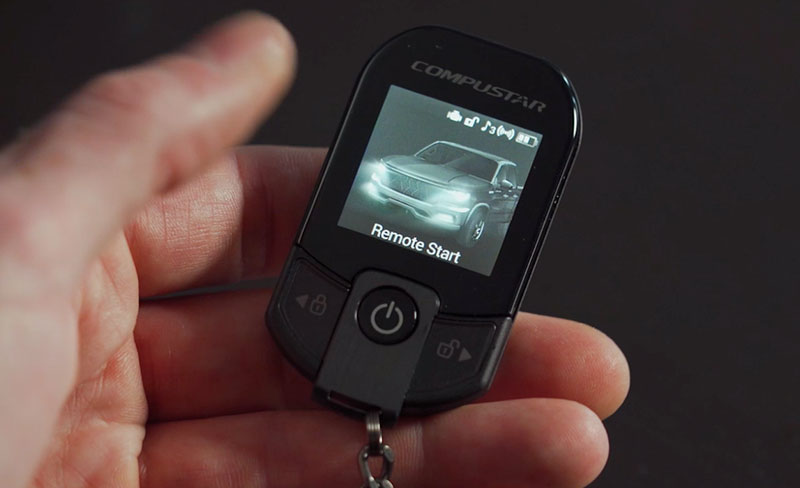 The basic functionality of a remote start system is this – it is an electronic device installed inside your vehicle that will start the engine without the key. Remote starters are activated by a remote fob or smartphone, depending on the system. The benefit of a remote starter is that it will start your vehicle's heater or A/C to ensure your vehicle is comfortable when you're ready to drive. 
On a more technical level, Compustar systems safely start the engine by talking to your vehicle's internal computer and temporarily replicating the vehicle's key signal through a technology called "KLON". That said, even while the engine is remotely started, the vehicle cannot be placed into gear nor driven until the driver places the actual key into the ignition. 
---
What parts do I need to add remote start to my car?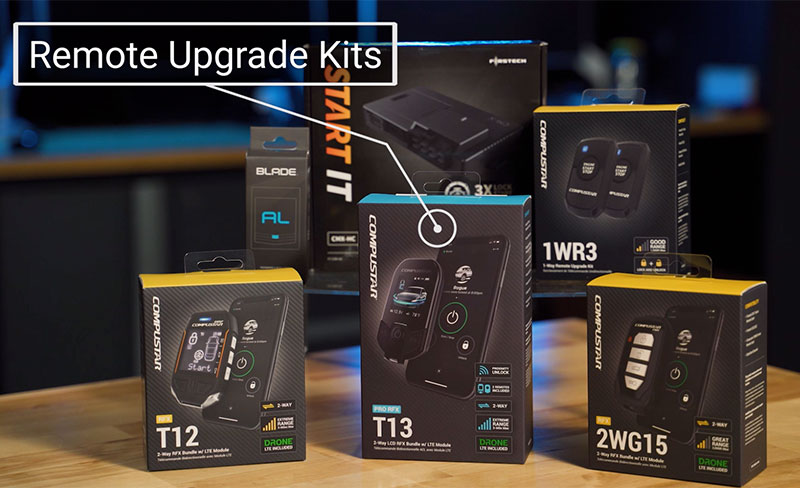 Control module

– At the heart of every Compustar remote start and security system is a control module. This module is installed inside your vehicle and executes all of the commands that you send from your remote or smartphone.

Bypass module

– Most modern vehicles will require a bypass module for the aforementioned control module to communicate with your vehicle. Bypass modules work as a "translator" so that our systems can speak your vehicle's language.

Long-range remote

– The ultimate benefit of a Compustar remote starter is the convenience of starting your vehicle from far away. Compustar offers a wide variety of remote styles that offer a range of up to 3-miles!

T-harness (optional)

– Your Compustar dealer/installer may recommend adding a remote start t-harness to your system. The benefit of t-harnesses is that they greatly reduce the number of cuts/connections required for installation and make the whole system easier to remove if you decide to sell your vehicle. 
---
What are the advantages of Compustar over my factory remote starter?
Extended remote range

– If your vehicle came with a factory fob or remote, you know very well that the remote's range is not great. You have probably forgotten to lock your doors and have had to go back out to the parking lot to lock your car. Compustar systems eliminate that hassle by offering superior range.

2-way confirmation

– In addition to superior range, Compustar also offers 2-way remotes that provide instant visual and audible confirmation when you successfully lock and start your car. 2-way is a "must have feature" if you are ever remote starting your car from a place where you can't see it. You'll never have to guess whether your vehicle will be warmed up when you're ready to hit the road.

Additional security

– Compustar systems can be configured to greatly increase your vehicle's security through security sensors and alarm alerts. Our premium security sensor, the DAS-II, can detect impact, tilt, and glass-breakage. 
---
What is Compustar's best remote starter for my car in 2021?
---
Can I use my smartphone to start my car?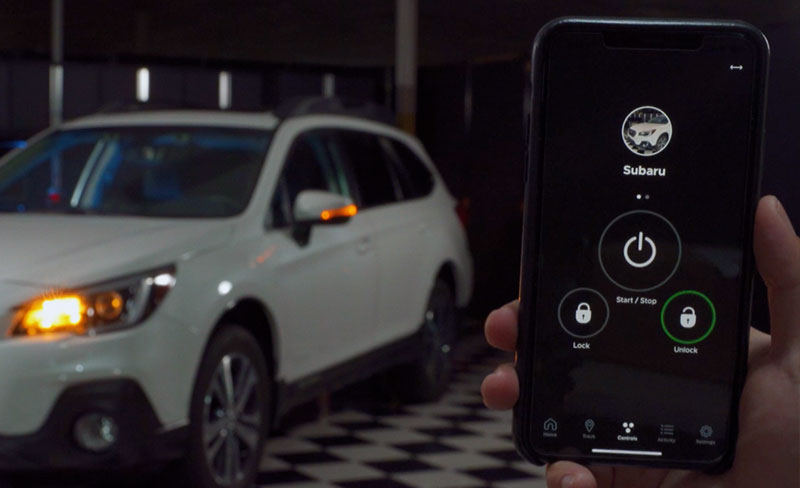 Yes, you can use the DroneMobile App to activate your Compustar remote start system. To enjoy this feature, you will need a Drone X1 module, which adds LTE and GPS connectivity to your vehicle.
As of 2019 in the U.S.A., most Compustar 2-way systems include a Drone X1 along with 30-day Free Trial to use your iPhone or Android to start and secure your vehicle from virtually anywhere in the world. The DroneMobile App is also free to download!
---
Do Compustar remote starters work on push-to-start cars?
Yes they do! Compustar remote starters can be configured to work with most vehicles regardless of ignition type. Just make sure to mention to your dealer/installer that your vehicle uses a push-to-start or "smart" key.
---
Where can I buy my Compustar remote starter?
Compustar remote starters can be purchased and installed at all Authorized Dealer Locations. We do not authorize any online sales except on BestBuy.com (where installation is included in the price of purchase). We recommend using our Dealer Locator tool to find an Authorized Dealer near you. If you are interested in products like the T13, look for dealers with a "PRO" badge.
More Articles to Read about Remote Start:
Compustar remote starters have been keeping drivers warm for over 20 years. Over that time, the technology inside of vehicles has radically changed. One of the most significant changes is the introduction of Push-to-Start ignition systems.
Do Remote Starters Work on Push-to-Start Vehicles?
In short, yes they do! If you have a push-to-start vehicle, you're in luck because you can still get a great remote start system installed. Compustar remote starters use a powerful, proprietary technology to make remote start safe for push-to-start drivers. Learn more about this technology below!
What is a Push-to-Start Ignition System?
Push-to-Start ignition systems use a fob, or "smart key", to authorize driving of a vehicle. However, instead of requiring a key to be inserted into the ignition, Push-to-Start systems recognize the smart-key by way of unique radio signals emitted from the key.
Since the introduction of Push-to-Start systems in the mid-2000s, millions of drivers have enjoyed the convenience of being able to start and unlock their vehicles without having to reach into their pockets for their keys.
How do you Remote Start a Push-to-Start Vehicle?
On most push-to-start vehicles, Compustar remote starters use a secure, proprietary technology called KLON* that mimics your vehicle's smart-key signal to start your engine. Thus, when you remote start your push-to-start vehicle, your engine will start as if your smart-key was physically inside of your vehicle!
How Do Remote Starters Work? >
However, even though your engine is running, your vehicle can NOT be driven without the physical presence of your vehicle's smart-key. This ensures your vehicle's safety and prevents any and all vehicle theft.
In order to drive your vehicle while it is remotely started, you will have to properly execute a "takeover procedure", which works as a hand-off between the Compustar remote starter and your vehicle's actual smart-key. "Takeover procedures" vary by vehicle, and you will want to confirm these steps with your authorized retailer.
*KLON is a trademark of iDatalink/Automotive Data Solutions.
Some Important Notes About Remote Start on Push-to-Start Vehicles
For select vehicles, you may have to unlock your vehicle using the Compustar remote while the engine is remotely started.
Some vehicles may require an extra smart-key for installation.
Certain vehicle makes and models do not have a takeover procedure, and will simply shut off the engine as soon as the driver's door is opened. If this is the case, simply enter the vehicle with your smart-key and press the Push-to-Start button. Even though your engine will have shut off, the inside of your vehicle will be nicely warmed up!
Remember: always contact your authorized retailer to confirm what options are available for your vehicle.
Find a Dealer
Additional Resources:
If you're a Compustar fan you're likely no stranger to 2-way controls. However, if you don't have security alerts set up, then you're missing out on some of the best 2-way features Compustar has to offer. 2-way alerts allow your remote to send commands to your vehicle (e.g. lock or remote start) and confirm back when that command is successfully executed. 
Critical to car security, 2-way alerts instantly notify you whenever your car alarm is triggered – helping to prevent theft from the moment a break-in occurs. According to the National Highway Traffic Safety Administration, over 700,000 motor vehicles are stolen each year. Our goal is to reduce this number with our car alarms and security systems with 2-way alarm alerts.
What are 2-Way Alarm Alerts?
2-way alarm alerts allow your security system to send alerts straight to your remote when your car alarm is triggered. 2-way alarm alerts can be configured to page you the moment your vehicle senses shock, impact, glass-break, and tilt. The sooner you recognize that your car is harmed or in danger, the sooner you can take action!

Paging with 2-Way Alerts
Compustar's 2-way feature confirms with a series of beeps and on-screen animations when a command is successfully sent from your remote to your vehicle. Visual cues displayed on our LCD remotes let you know exactly when your engine has been remote started or shut down. 
Another benefit of 2-way remotes is the ability to confirm when your vehicle is armed and locked. This feature takes the guesswork out of traditional key fobs which require you to be near your vehicle to see or hear when your car is successfully locked. You can leave the parking lot with confidence knowing that your car is secure with 2-way alerts!
Car Alarm Security Features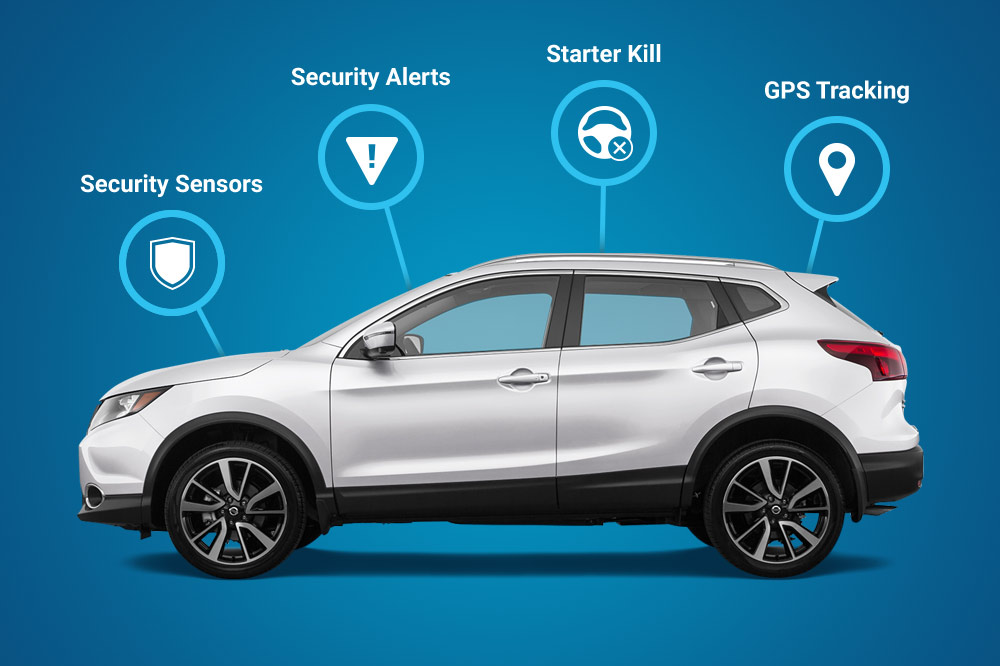 Compustar security systems include a wide variety of features that are perfect for 2-way remotes. These include:
Alarm alerts – In the event that your car alarm is triggered, you'll instantly receive security alerts directly to your 2-way remote.
Impact detection – The dual-stage shock sensor included in Compustar security systems detect impact and alert you when someone or something hits your vehicle. Compustar shock sensors can also distinguish the intensity of impact – from a light tap to a potential hit-and-run.

Tilt sensor – Vehicles equipped with the DAS-II security sensor detect tilt in your vehicle. Your alarm siren will sound, should the sensor detect tilt due to towing, theft, or impact. 
Glass-break sensor – The DAS-II glass-break sensor will send an alert to your 2-way remote as soon as the built-in microphones detect glass-break. This feature is crucial to detecting smash-and-grab situations and carjacking.
Starter-kill – Eliminate car theft by preventing thieves from starting your engine while your Compustar security system is armed.
GPS Tracking – Pair your alarm system with DroneMobile to get GPS Tracking on your smartphone for extra added security and comfort.
LCD Remotes with Security Alerts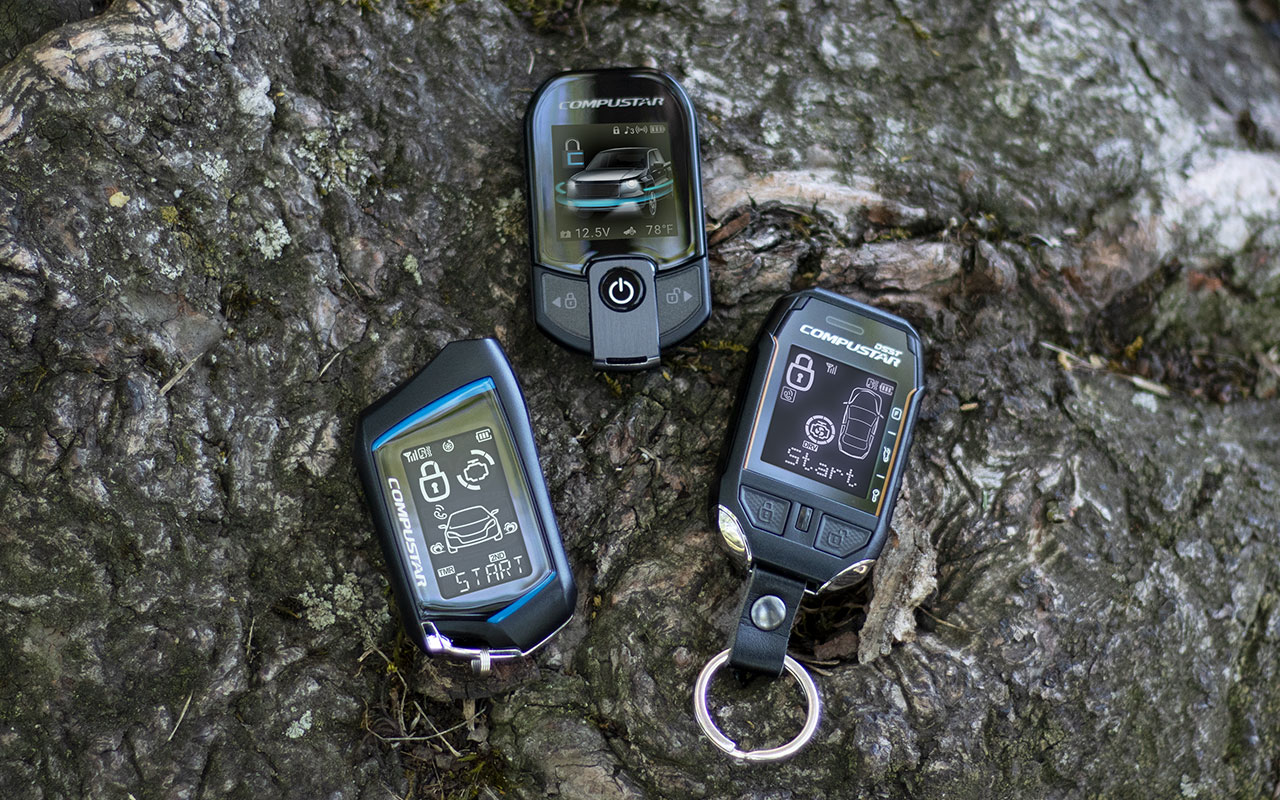 Interested in receiving security alerts from your alarm system? Check out our most popular 2-way remotes below:
PRO T13

– The most advanced remote start and security system to date, the PRO T13 features a vibrant full-color display, with up to 3-miles of max range, is micro-USB rechargeable, and includes our proximity unlock feature.

T12

– A crowd favorite, the waterproof T12 features a high-strength injection-molded body that's able to withstand everyday impact, while maintaining industry-leading range.

T9

– One of our best-selling remotes, the T9 features an interactive LCD screen that keeps you up to date on your vehicle's status all in one great value.
Looking for an all-in-one 2-way security solution? The CSX9900-AS remote start and security bundle has everything you need to keep your vehicle protected. This kit includes one of our most popular LCD remotes, the T12. The T12 is capable of monitoring your vehicle for impact, towing, glass breakage, and more with 2-way alarm alerts.
Also included in this bundle is the Drone X1-LTE Module which allows you to connect your car to your smartphone with the DroneMobile App. The LTE Module turns your smartphone into your backup remote. You can control your car and get instant alarm alerts directly to your smartphone for added accessibility and security.
Learn more about DroneMobile >
Secure Your Vehicle with 2-Way Alarm Alerts
2-way alarm alerts are a must-have in any car security system. They keep you updated on your vehicle's current status and let you know if your doors are locked. Most importantly, alarm alerts tell you when your vehicle detects impact, tilt, glass-break, and more!
Don't have a security system installed in your vehicle? Visit one of our 2000+ retailers to get an alarm system with 2-way alarm alerts, so your vehicle will always be secure. 
Visit your local Authorized Compustar Dealer today to find the right security system for you!
Whether your vehicle is new or used, you don't want to miss out on any of your car's valuable features. If you're not sure whether or not you have a remote starter, there are several simple ways to check. Check out how to find out if your car has a remote starter below! 
What is a Remote Starter for a Car? >
How to Know if You Have a Remote Starter
We'll give you more details about each step below, but here are some quick ways to find our if your car has a remote starter!
Your owner's manual has instructions on how to use any included remote start features
Your key fob has an extra button for the remote start feature
Test the buttons on the key fob to see if your car has a working remote starter
If you don't have a remote starter, adding a Compustar remote starter is a simple process!
1. Check the owner's manual 
If your vehicle has a remote starter, there will be information about your specific remote starter and how it works in your vehicle's owner's manual. Check in the index of the manual to see if this feature is included. 
Here are several popular vehicles that offer a factory remote start option: 
Honda Accord, Civic, and Insight
GM vehicles (2003 – later)
Hyundai Sonata
Acura TLX and ZDX (2010 – later)
Subaru Legacy, Outback, and Tribeca (2007 – later)
Nissan Altima
Ford Mustang and Fusion
Chevrolet Camaro
2. Check your vehicle's key fob 
The key fob for your car will have a special button if your vehicle has a remote starter. The symbol for the remote start is usually an arrow making a partial circle, as seen above. However, take note that some vehicle brands might use a different symbol for remote start.
Quick Tips for Finding a Remote Start Installer > 
3. Test out the feature 
If you find your owner's manual and the key fob both indicate your new vehicle has a remote starter, be sure to give the feature a test to make sure it works. Your owner's manual should have instructions on how your specific system works, but most factory remote starters require you to lock the vehicle and double-click the remote start button. 
Where to Buy an Aftermarket Remote Starter 
If your vehicle does have a remote starter, it will likely be a factory system. These systems are a nice add on, but aftermarket remote starters are the best of the best. Check out this article to see the differences between the two types of systems: The Differences Between Factory and Aftermarket Remote Starters >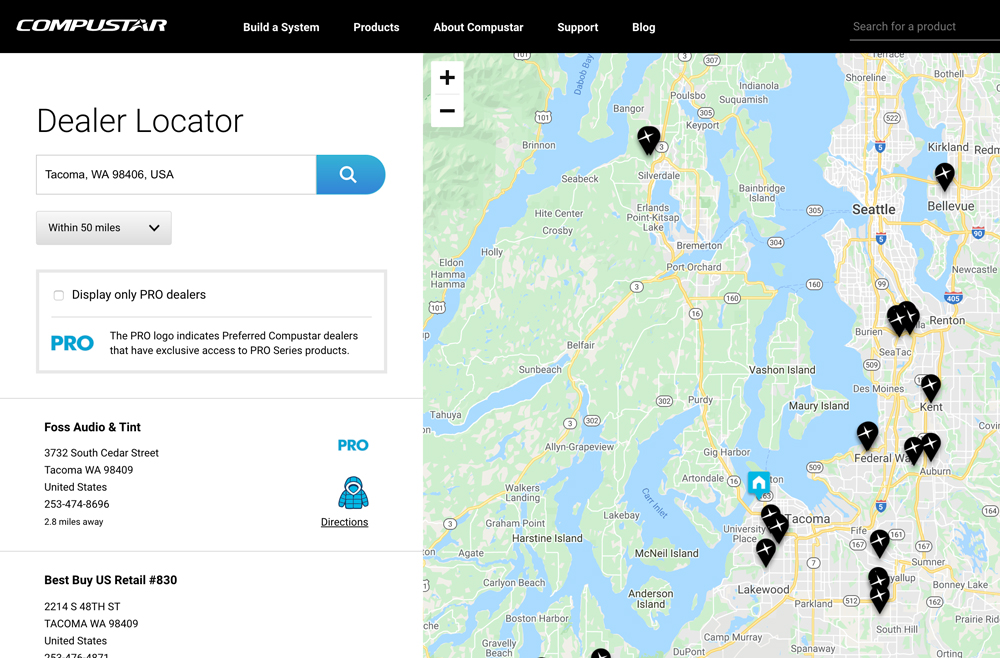 With an aftermarket system, any vehicle can have a remote starter! Our Authorized Compustar Installers are trained pros. Their expertise paired with our award-winning remote starters means you'll get the best remote starter on the market! To get a system, start by visiting the Find a Dealer page on our website. One of our retailers can help you choose the system that's best for your needs.