January 27, 2020
3 Ways to Upgrade Your Remote Starter in 2020
Are you looking to upgrade your remote starter in 2020? Here at Compustar, we pride ourselves on the versatility of our remote start and security systems. We make many gadgets, features, and accessories to help you take your system to the next level. Here are the best ways to upgrade your Compustar remote starter in 2020.
1. Get a New Remote
Compustar remotes can come in several different forms and with different features. Check out the different types of remote features below so you can decide which product is best for your needs.
Should I Get a 1-Way or 2-Way Remote?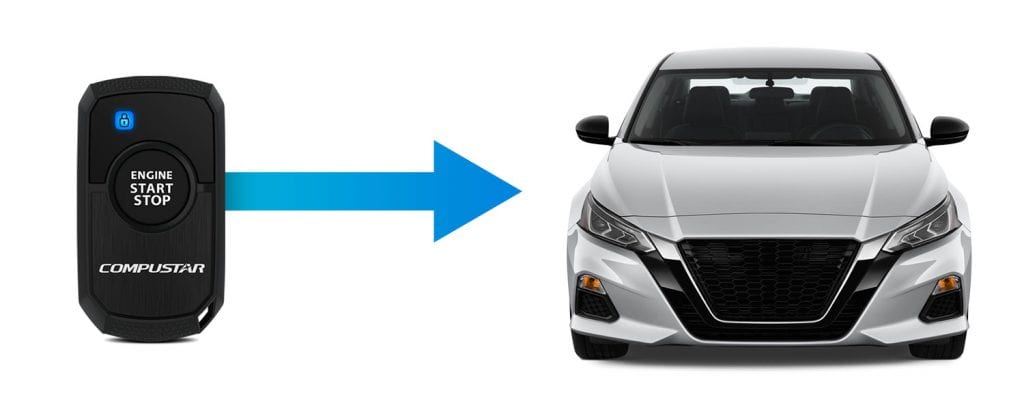 If you're new to the world of remote starters, these terms might not mean anything to you, but the difference between the two is simple. A 1-way remote functions just like a regular car key remote, but with remote start. It sends commands just fine, but doesn't give you confirmation when the command is received by the vehicle.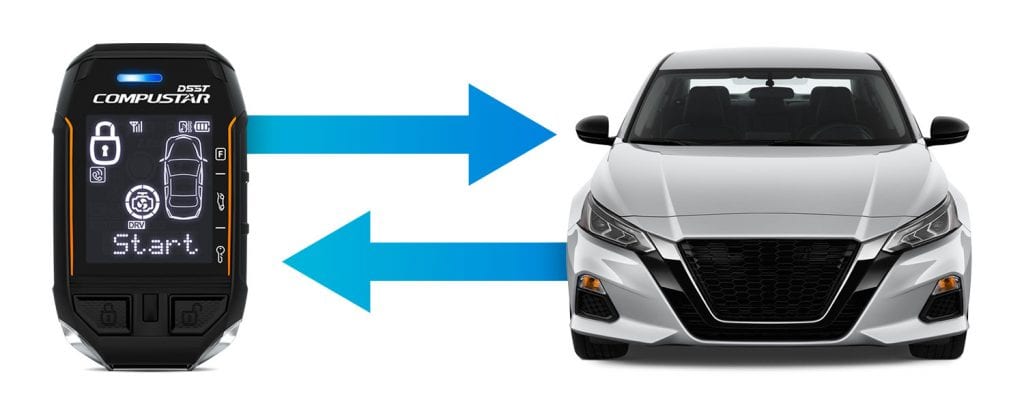 On the other hand, 2-way remotes send commands and confirm the commands have been received. Some remotes will also notify you if your command has failed. This is particularly handy if you park far away from your home or work. In cold regions, sometimes you might need to melt snow or ice off of your vehicle before work each day. If you have a 2-way remote, you will know without a doubt that your car will be warm and ready for you as you start the day.
Should I Get an LCD or LED Remote?
Much like with 1-way and 2-way, the difference between LED and LCD remotes is simple. LED remotes use a series of lights and beeps to communicate with the user, while the LCD remotes have a screen allowing for more advanced communication with the user. For example, the 901 remote's LCD screen animates and the remote vibrates when you send a remote start command.
Do you own a smartphone? Did you know many Compustar remote kits, including all LCD remotes, now include smartphone car control? As of 2019, we swap out the back up remote of our 2-way kits and replaced it with a Drone X1 module. Learn more about this powerful upgrade at dronemobile.com.
How Many Buttons Do I Need?
All of our remotes pack a lot of power for their size, but it is important to note that some remotes have different functions based on their button count. Let's explain what each remote type can do for you:
1-Button – All essential remote start, lock, and unlock functions included. These remotes can come as 1-way or 2-way.
4-Button – All essential remote start, lock, and unlock functions included. You can also perform the trunk-pop command. These remotes can come as 1-way or 2-way.
6-Button – All essential remote start, lock, and unlock functions included. These remotes allow for additional auxiliary features, such as window roll up and down, as well as trunk-pop and panic. These are 2-way rechargeable remotes with LCD screens.
How Much Range Do I Need?
One of the main reasons why people choose to get a new remote is for an upgrade in range. We're proud to offer a variety of remotes with different levels of range in all different sizes. Much like with 2-way vs. 1-way remotes, the amount of range you should get depends on your needs.
If you park far from home or work, it would be best to go with maximum range to ensure your commands are sent and received successfully. However, if you park right outside, or mainly want to remote start from your DroneMobile app, then a remote with a shorter range might work well for you. Check out the range of each of our remotes below.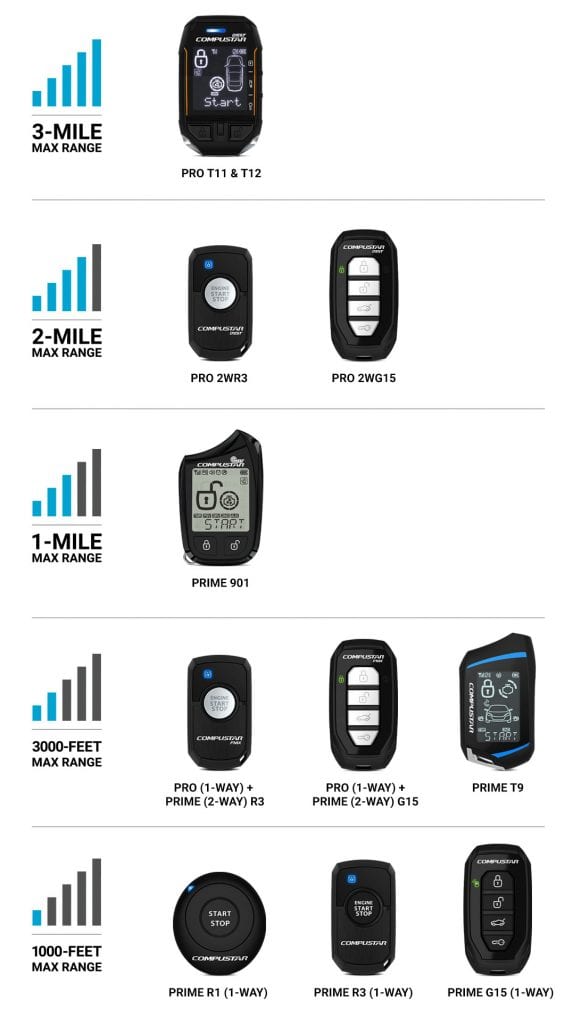 How to Buy a New Remote
Purchasing a new remote is as easy as visiting your installer. Visit the dealer who installed your system, or another Compustar Authorized Dealer, for personal advice on which remotes will work for your system and your preferences. When programming a remote, check our website for troubleshooting resources, or reach out to our team for help.
Take note, some of our remotes are only available at Pro Dealers. So, if you find a remote you like through our website that has "Pro" in the title, make sure your retailer is a Compustar Pro Dealer through our dealer locator at https://www.compustar.com/find-a-dealer/.
2. Enable Auxiliary Features
You can personalize your Compustar system by having aux functions enabled during or after the initial installation of your system. If you are looking to remotely control your vehicle's special functions, such as your heated seats, sliding doors, or windows, this is likely possible. Contact your original installer to see which features they can enable.
You can hook up these controls to anything electronic, but here are some of our favorite, practical examples:
Roll down/roll up windows (great for summer!)
Activate front/rear windshield defrost
Open/close sliding van doors
Activate seat warmers
Connect to 3rd party electronics (like your electric garage door)
Remotes That Work With Auxiliary Features
Auxiliary features can be activated from DroneMobile and many Compustar remotes, including all 2-way 6-button remotes. We recommend confirming your current Compustar remotes' capabilities before adding Auxiliary features. Find a list of all of our 6-button remotes below.
As you can see above, all of our 6-button remotes are now included in a kit with a Drone X1 module. This telematics system functions as a backup remote for your auxiliary features, and has many functions of its own as well, like GPS tracking and security alerts.
3. Add Accessories to Your Compustar System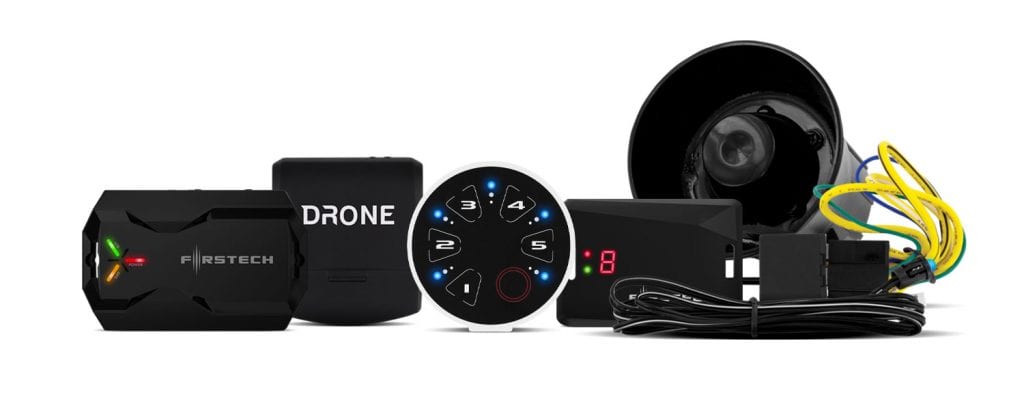 One of the best ways to upgrade your Compustar system is by adding accessories. These gadgets add enhance security or add a new level of convenience to your system. Let's talk about each one of these accessories below.
DroneMobile Modules
While these modules are listed under accessories, they're really full systems on their own! Both of these modules* function as a remote replacement, making your Compustar remote more like an emergency backup. They also add GPS tracking to your vehicle. The X1 Max module adds security sensors and a back-up battery to your Compustar system. Learn more about DroneMobile at www.dronemobile.com.
*additional installation fees may apply, please speak with your local Authorized Dealer.
RPS Touch
With the RPS touch, you can lock and unlock your vehicle from a discreet, window-mounted keypad. This accessory works with select Compustar systems. Talk with your dealer about getting this accessory installed today!
ALARMIT Kit
If you currently have a remote start only system, this is the best way to get upgraded car security for your vehicle. This set up adds a security sensor which detects glass break, towing, and tilt; an LED light to deter potential intruders; E-LOCK relay to prevent auto theft and carjacking; and finally, this kit includes an upgraded vehicle siren.
Whether you're looking to upgrade an existing remote starter, or you're trying to build your dream Compustar system, we hope this list gives you some good ideas! Learn more about vehicle-specific solutions on our Compustar Vehicle Specific page.