March 21, 2021
Remote Start T-Harnesses: EXPLAINED
Remote car starters have seen many innovations over the past decade such as improved communication range, waterproof remotes, and USB rechargeable batteries. But one the most significant innovations have occurred under the dash, where the rising popularity of "T-Harnesses" has made remote start installation more reliable, approachable and streamlined.
Everything You Need to Know About T-Harnesses
T-harnesses are vehicle-specific wiring kits used to install remote starters
T-harnesses make installation quicker and easier for trained remote start professionals
These high-quality kits are made specifically for your vehicle make and model
Compustar offers t-harnesses for over 75% of vehicles and counting!
In this article, we are going to explain some of the facts AND myths related to remote start t-harnesses. To help with explaining the benefits of t-harnesses, look out for our Taco Tips. (Why tacos? Well, they both start with the letter T?)
---
What is a Remote Start T-Harness?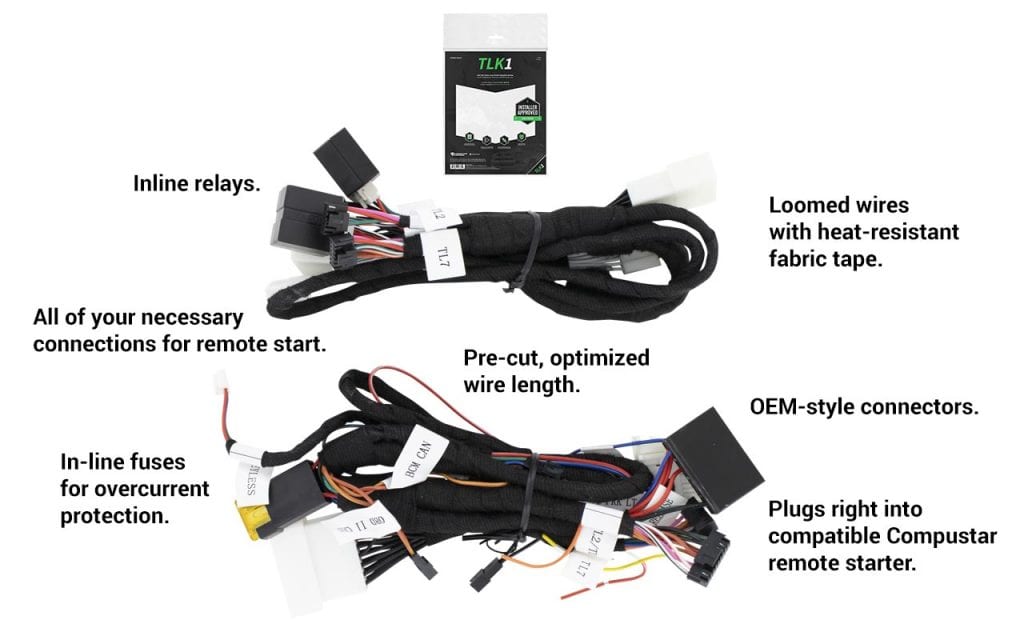 A t-harness is a wiring kit that connects an aftermarket remote car starter to a specific type of vehicle. T-harnesses include pre-prepared wires and connectors that make installing remote starters faster and, in some ways, easier. The primary reason for this is that t-harnesses have factory or "OEM" style connectors that reduce the number of hardwired, soldered wire-to-wire connections in the vehicle.
How Do Remote Starters Work? >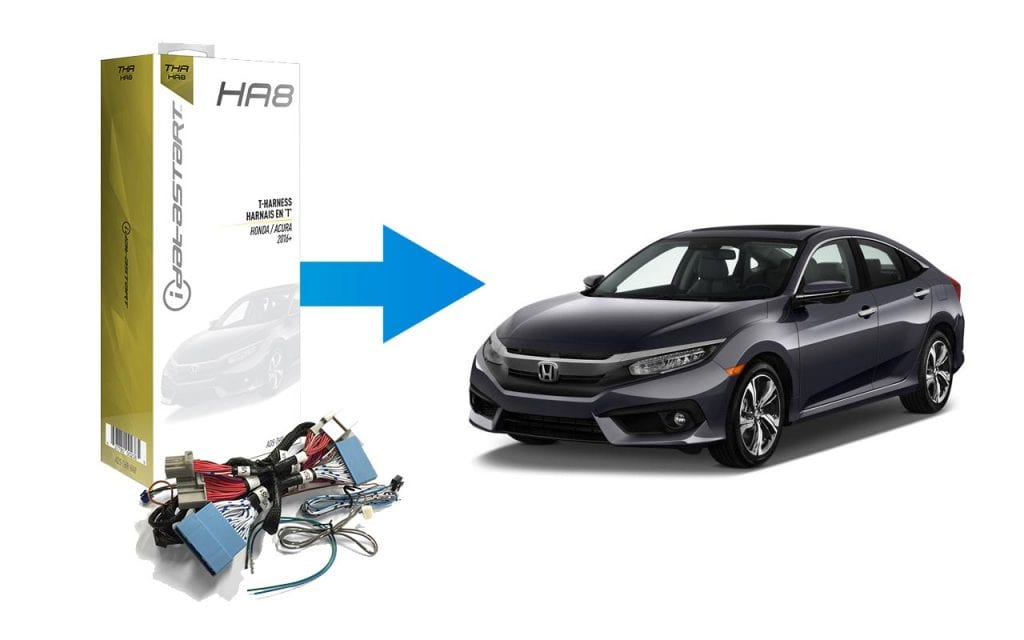 T-harnesses are generally designed specifically for vehicles from a similar manufacturer and range of model years. For example, iDatalink's HA8 t-harness is designed for Honda/Acura vehicles 2016 or later (with a push-to-start ignition system). Thus, if you wanted to install remote start onto a 2017 Honda Civic with push-to-start, you would use the HA8 t-harness.

Taco Tip #1: Imagine that you're cooking chicken tacos. For your chicken, you have the option of either mixing your own spices (salt, pepper, paprika, garlic powder, etc.) or using a conveniently pre-made spice mix. Remote Start T-harnesses are essentially a pre-made spice mix that makes installation more convenient.
---
If I have a Remote Start T-Harness, can I install my system myself even if I'm not an installer?
No. Even with a t-harness, remote start installations are still very complicated. Despite what many websites say, t-harnesses are NOT "plug-and-play" (sure, maybe the "plug" part, but definitely not the "and-play"). Because of this, we absolutely still recommend that you have your remote starter installed by a trained, professional installer at a manufacturer-authorized dealer. In addition to wiring a remote start, there are still many steps involved in the installation process:
Vehicle disassembly/reassembly – Carefully removing interior panels to access the ignition system AND putting everything back together exactly as it was when you dropped off your vehicle. (Remember, your vehicle doesn't come with instructions with how to take apart the dashboard.)
Firmware updating – Loading vehicle-specific and updated firmware onto all hardware components for maximum functionality.
Key "learning" – Programming of the vehicle's factory key to your remote starter so that the engine can be started without the actual key being physically present in the vehicle/ignition.
Remote programming – Programming of aftermarket remote transmitters for extended range remote control.
Testing & troubleshooting – Professional installers are trained to identify and prevent potential issues that may negatively affect your user experience.
3 Tips to Find a Great Remote Start Installer > 

Taco Tip #2: Having a taco spice mix does not guarantee perfect chicken tacos. You may burn the meat. Your salsa may be terrible. Each ingredient is key to your meal's deliciousness. Similarly, remote start t-harnesses do not guarantee an easy install for a non-expert, as there are many steps that require training/experience.
---
If installation is faster thanks to T-Harnesses, shouldn't I pay my installer less?
No. When you hire an installer to add remote start to your vehicle, it is important to understand that you aren't just paying for labor, but for expertise and experience. Chances are, a professionally-trained installer has previously worked on a vehicle similar to yours and will know how to safely integrate the system into your vehicle (with or without a t-harness). Also, as we mentioned previously, there is a lot more involved in remote start installation than just connecting wires.
How Much Does a Remote Starter Cost? > 
In reality, because t-harnesses are generally sold separately from a remote starter, your final cost may actually end up being higher than if your installer used a universal wiring harness. That said, keep on reading to learn about the benefits of a t-harness.

Taco Tip #3: You've decided to go to a Mexican restaurant where they offer a wide variety of tacos; all wrapped in fluffy handmade tortillas. Delicious. And you didn't have to lift a finger to make them. Should you pay less if the tacos come out of the kitchen in 10 minutes, instead of 15? (The answer is no.)
---
If Remote Start T-harnesses aren't cheaper and I can't install it myself, why would I want one?
Remote start t-harnesses may not be beneficial or applicable to 100% of situations. However, consider the following benefits of t-harnesses to decide whether it's the right choice for you!:
Peace of mind knowing that your installation was performed using high-quality parts made for YOUR specific vehicle.
If you are selling your vehicle or doing a lease return, it's much easier to return your vehicle to stock if a t-harness was installed.
Improved reliability due to reduced wire-splicing and hardwired connections, which may be more prone to weathering and/or failure.
Some vehicles (Audis, BMWs, Mercedes-Benz) require a t-harness for remote start.
Avoid having one of these disasters installed in your vehicle :

---
Does Compustar make a T-Harness?
Yes! All Compustar remote car starters can be installed using an iDatalink or Firstech Integration (FTI) T-Harness. The specific model or brand of harness will depend on your vehicle's make/model/year AND your installer's preference. Currently, Compustar offers a t-harness for nearly 75% of vehicles on the road.
If you are interested in learning more about Compustar remote starters and t-harnesses, contact your nearby Authorized Dealer today to request more info and pricing.