April 21, 2021
How Long Does it Take to Install a Car Alarm?
A car alarm is a valuable part of your vehicle security system, but how long does it take to install a car alarm? If you're getting your alarm professionally installed, as you should, then there are several factors that are considered when estimating installation times. This article tells you everything you need to know about car alarm installation, check out the details below!
What You Need to Know About Car Alarm Installation
Here's a quick review of what you'll learn in this article:
Based on a survey of car alarm installers, the average car alarm installation will take 2-3 hours, depending on the vehicle.
A car alarm detects and deters car theft – the installer will add sensors and other hardware to your vehicle to make this possible.
If you want the best results, it's always better to go to a certified car alarm installer.
What is a Car Alarm?
Car alarms, also known as vehicle security systems, are electronic systems that detect and discourage theft of a vehicle or the contents inside of it. Generally, a car alarm detects some type of intrusion and responds with an alert in the form of a siren, blinking light, or notification to the vehicle owner via some type of remote communication.
---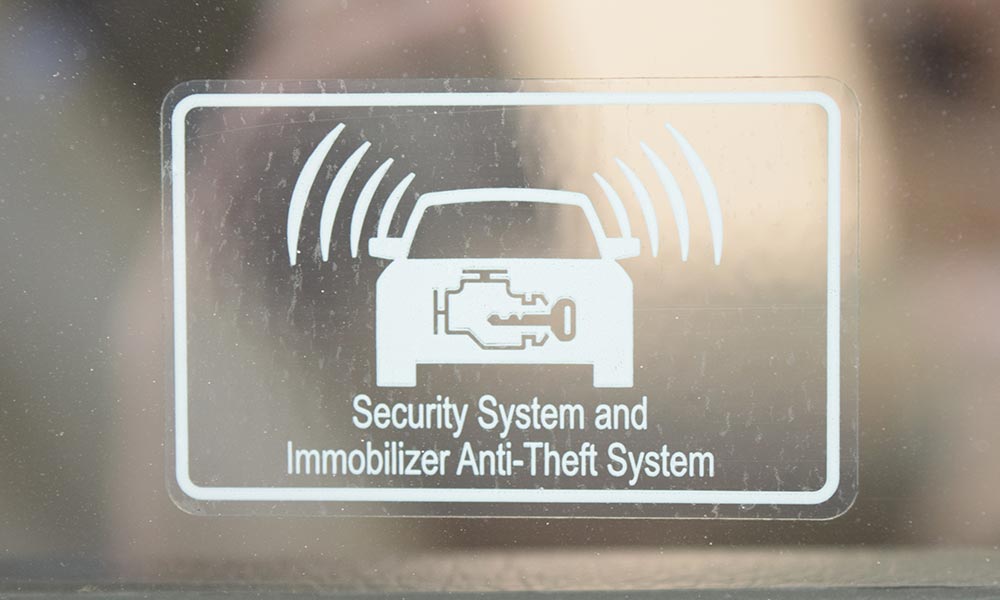 Does my vehicle have a car alarm installed in it?
Most car manufacturers include some form of security with every vehicle they produce. While the extent of this security varies, a factory car alarm will usually include the following components:
Immobilizer – prevents the vehicle from being driven without the physical key
Door sensors – detects when a door is opened, either forcible or from inside, while the security system is in an "armed" state
Horn siren – repeatedly honks to indicate that some form of intrusion has occurred
If your vehicle's model year is within the last 15 years, it most likely has some security features, but probably not enough to detect situations like smash-and-grabs, towing, hit-and-runs, or wheel theft.
---
How long does it take to install a car alarm?
In a survey taken by MECP-certified install technicians, respondents stated that the average car alarm installation takes about 3 hours. The longest installation reported was 5 hours and the shortest was 2 hours. This length of time includes the following procedures:
Diagnosis of vehicle's current state (door locks, light bulbs, battery, etc.)
Disassembly of vehicle inside panels
"Bench prep" – preparation of all products, wires, and accessories prior to going under the vehicle dashboard
Installation, connections, and mounting (making sure that component is secured and won't shake while you're on the road)
Testing and troubleshooting to make sure all installed components work properly
Reassembly of vehicle inside panels & cleaning so that everything is back to the way it was before you dropped off your vehicle
Important note: the estimated time listed above was reported by certified technicians that have all of the tools, training, and resources necessary to complete a car alarm installation. If you are a first-time installer, it is reasonable for your install to take over 5 hours (taking apart a vehicle carefully can take a couple hours alone). Click here to learn more about how much car alarms generally cost.
---
How do you install a car alarm?
Although Compustar does not condone DIY installs by non-experienced/certified installers, we understand that there are many skilled individuals with the experience and moxxy to figure it out. For those individuals, an online resource like www.the12volt.com is a great place to learn the fundamentals of car alarm installation.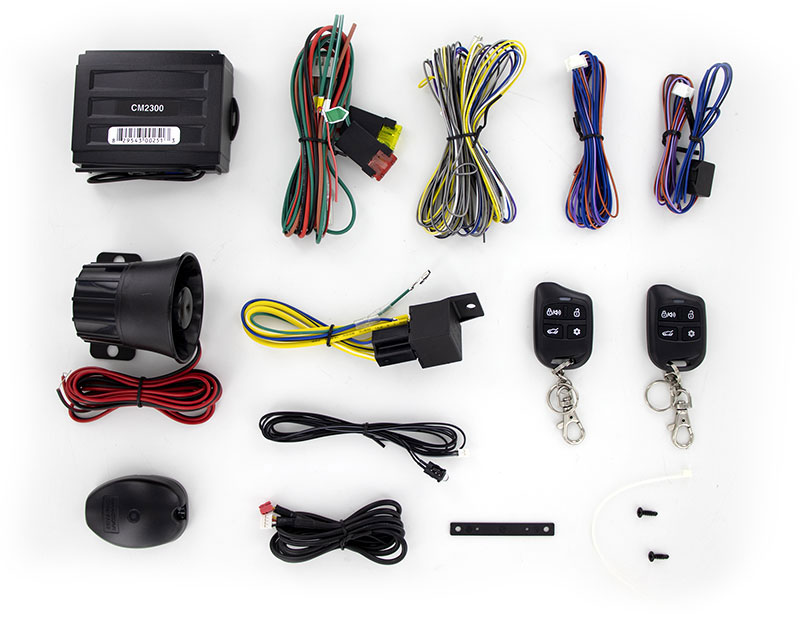 These are the contents included with one of our most popular car alarms: the Compustar CS720-A.

As a general overview, installing a car alarm requires the following components:
A control module, or "brain" – a device that receives and sends signals to and from your vehicle
A remote – a remote, or "fob", to arm disarm your security system
A siren, or horn output – when triggered, emits loud noises to scare away thieves and alert potential witnesses
Miscellaneous wiring harnesses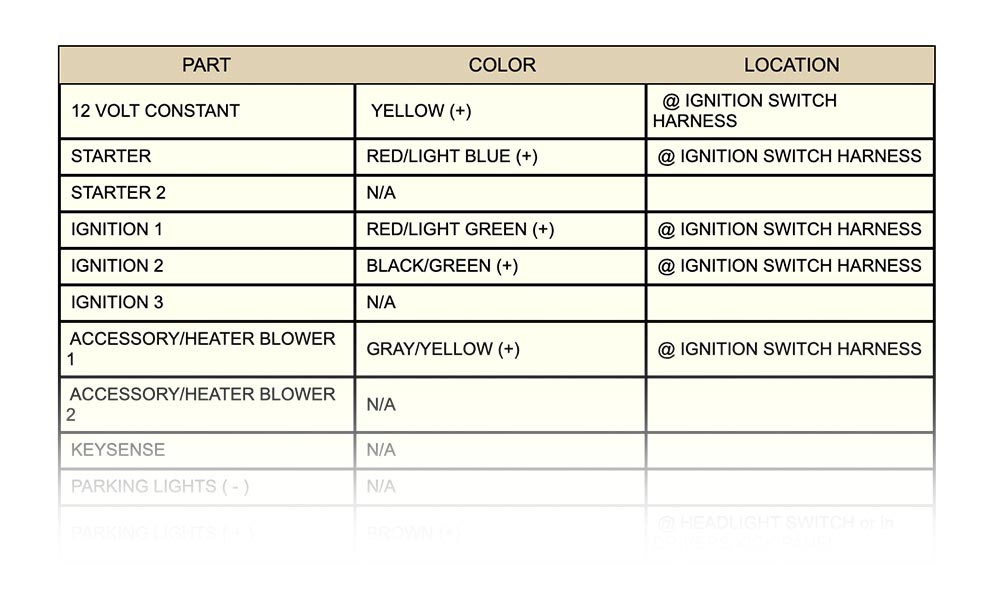 To complete your car alarm installation, you will need a wiring schematic like the above chart for a Ford Bronco…

After you have disassembled the vehicle's inside panels and have access to your vehicle's internal wiring, your car alarm installation will generally include the following connections:
Power(+) 12V DC: Car alarms are electronics that need power. Find a vehicle wiring diagram for your specific vehicle to locate a reliable source of power.
Ground(-): Connect to a clean and solid chassis ground source.
Ignition(+): Most systems, including Compustar systems, include a starter-interrupt or ELOCK relay, which prevents a vehicle from being driven while the security system is armed.
Inputs: Inputs are most often used to detect different types of vehicle intrusion. Some examples:

Door trigger (detect if someone forcibly opens your door)
Hood pin (detect if someone opens your hood)
Brake input (detect if someone attempts to put the vehicle into gear)
External shock sensor (detect if something hits your vehicle)
External tilt sensor (detect if your vehicle's parked angle changes)

Outputs: Outputs are most often used to control different components within your vehicle using a remote fob or in some cases, your smartphone.
What About Car Alarms with Remote Start?
Here's a quick review of what you'll learn in this article:
You can easily add a car alarm system to your remote starter, or vice versa. You can even purchase a car alarm and remote starter bundle to have both systems installed at once! However, if you're not ready to commit to both systems, then you can have a basic car alarm system installed and then upgrade from there.
Learn more – Is Remote Start Worth It?
---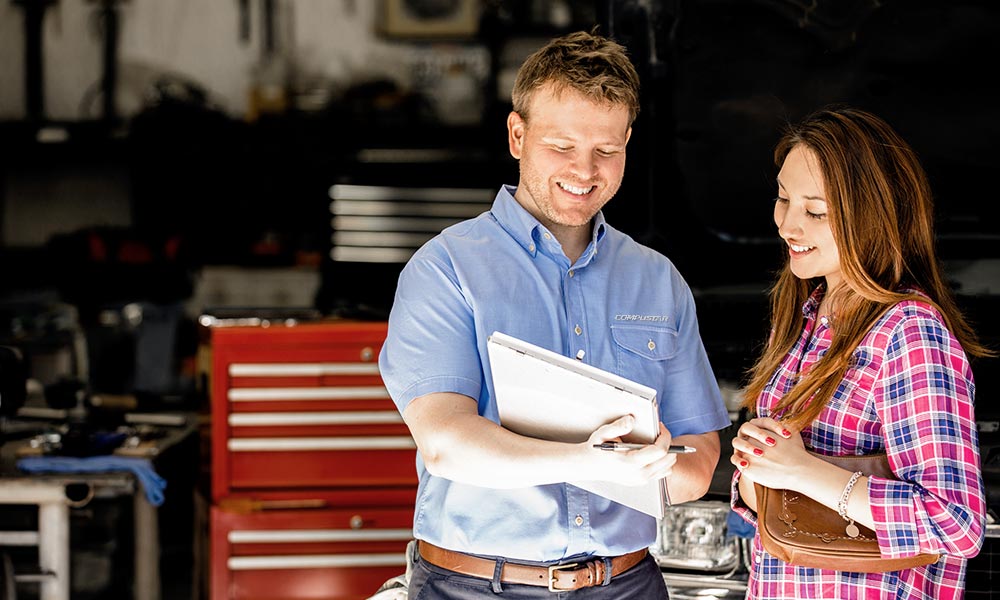 3 reasons why you should contact an Authorized Dealer to install your new car alarm
Safety first – If you are interested in purchasing a car alarm, it is because your vehicle's security is a major concern. Getting your car alarm installed by a certified professional ensures that your car alarm will work in the event of theft or intrusion. Furthermore, you'll avoid accidentally damaging your car's internal components by attempting to perform a DIY install.
Save time, headache, and probably money – As they say, "Time is money." For individuals that love to tinker and experiment: a DIY car alarm install is possible, but it is time consuming. An Authorized Dealer is going to have trained installers that have years of experience working on cars similar to yours. They'll know the exact connector/pin locations within your vehicle, along with how to take it apart and put it back together.
Support small businesses – Most automotive electronics shops are independently-owned small businesses that thrive by providing specialized services to customers like you. Stay engaged with your local community by contacting an Authorized Dealer near you!