March 18, 2021
Do New Cars Come With Car Alarms?
With recent advances in automotive technology, it makes sense that all cars now come with car security systems, right? Well, unfortunately, that is not the case. Investing in the car of your dreams is a big step, so you need to make sure your automotive investment is protected. 
Car security systems vary from vehicle to vehicle, which is why it's so important to check all of the paperwork before making a big automotive purchase. In this post, we're going to tell you how to check if your vehicle has an existing car alarm system, and what to do if you discover your car didn't come with a security system. 
How To Check If You Have A Car Alarm 
Many people who own vehicles with advanced factory features, such as keyless entry systems, tend to assume their car has a security system as well. This isn't always the case, however, so it's important that you double check. 
Check The Fob And Owner's Manual
If you have bought your car used, there's a pretty easy way to check if your vehicle came with a car alarm installed: check the owner's manual and  look at the key-fob. Your vehicle's manual is a great resource for finding out if the car came with an alarm. However, it obviously won't tell you if an aftermarket system was installed.  
 If you have an aftermarket key fob, then your vehicle likely has an alarm system. Sometimes, like with Compustar, this will be a secondary key-fob that is separate from your vehicle's key. 
Simulate A Break In
If you purchased a new car, or your used vehicle only came with a factory key, there's another simple way to check if you have a security system. First, take a trip out to your vehicle with your keys in hand. You will simulate a car break in to see if your car responds.
Roll car your car window.

Remove the keys from the ignition and step out of the car. 

Using your key, lock your car doors, with the window still rolled down. 

Wait about 30-45 seconds. 

Reach through the open car window to unlock the car, and open the door. 
If you have a security system installed, then you will hear the car alarm sound when you open the door. If your car alarm doesn't sound, then try repeating the process, if it still does not sound, then you likely do not have a car alarm.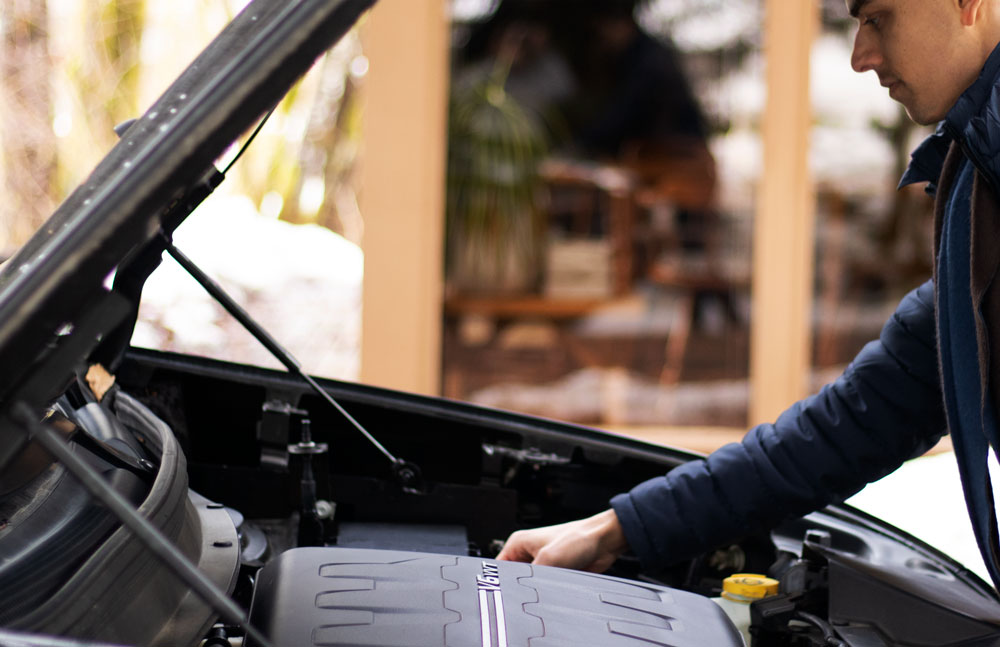 Look Under the Hood
Finally, after you've gone through the steps above, you should then check your vehicle for the car alarm hardware. You can do this at home, but I suggest you visit a local automotive expert. If you take it to someone who knows what they're looking for they will be able to tell you what type of system your vehicle has, what it should be able to do, and how it works. 
Where To Purchase A New Car Alarm
Once you've determined whether your new car came with a car alarm or not, it's time to decide what to do now. Maybe you don't have a car alarm system, or maybe you'd like to enhance the system you do have. Either way, Compustar offers high quality products ranging from vehicle security accessories to complete vehicle security and remote start kits.
Compustar's Top Car Security Systems (2021 Update)
Choosing a car alarm system can be a stressful process. There are so many options from which to choose! Here at Compustar, we make a wide variety of vehicle specific car alarm systems, but we also curate bundles and kits that make it easy for you to find the system with the features you want. 
You really can't go wrong with a Compustar system, but here are the three best car alarm systems we currently offer.
When you get this bundle installed, you get a powerful base security system to build on for years to come. Everything you need to start leveling up your security is included in this kit. This particular system includes two 1-way remotes with 300 feet of range, the security control module, shock sensors, and seamless integration with your factory siren. Check out all of this bundle's features below:
Keyless entry

300' of Range

Two 1-Way Remotes

Dual-Stage Shock/Impact Sensor

Factory Horn Integration (Siren Sold Separately)

Theft-Deterrent LED
If you need a base system but want an aftermarket alarm and more range, then this bundle is right for you! This system includes two 1-way remotes with 3,000 feet of range and are water-resistant. Plus, the security control module, shock sensors, and alarm siren will protect your vehicle day and night. Check out all of this bundle's features below:
Keyless Entry

3000′ Max Range

Two 1-Way Remotes

Water-Resistant Remotes

Dual-Stage Shock/Impact Sensor

105dB+ Alarm Siren Included

1-Year Remote Warranty

Theft-Deterrent LED
For those of you ready to go beyond the base system, this is the bundle for you. This 2-way car security system includes one 2-way and a backup 1-way remote each with 3,000 feet of range. Your 2-way remote has an LCD screen for more insight into your vehicle's condition and advanced security alerts. This system also includes a Drone X1 LTE module so you can access your vehicle data and controls through the DroneMobile app and other smart devices. Check out all of this bundle's features below:
Keyless Entry

3000′ Max Range

2-Way LCD Remote

2-Way Alarm Alerts

Dual-Stage Shock/Impact Sensor

105dB+ Alarm Siren Included

1-Year Remote Warranty

Limited Lifetime System Warranty

Smartphone Control

GPS Tracking