December 10, 2020
Compustar's 2020 Holiday Gift Guide!
If you're looking to snag your favorite people something from Compustar this Holiday Season, then now's your chance! Our 2020 Remote Start Holiday Gift Guide has arrived!
This year's gift guide is especially exciting because it includes some all-new systems we're thrilled about! Check out our curated list of Compustar favorites, old and new, so you can be the star of the holidays!
---
We couldn't resist putting the all-new PRO T13 at the top of the list. This innovative system is packed with groundbreaking features that will make your life easier and your car more comfortable.

Brand New Proximity Unlock Feature!
Full-Color LCD Screen
2-Way LCD Remote with 3-Mile Max Range
USB Rechargeable Battery
IPX-7 Waterproof Remote
Find a PRO Dealer to get this kit!
---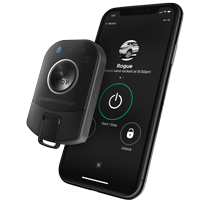 The PRO R5 features our new water-resistant case design that is compact and easy to carry. But don't let its size fool you! In addition to 2-miles of range, the PRO R5 offers Proximity Unlock and USB recharging with up to 45 days battery life. This kit also includes the powerful Drone X1 vehicle telematics module for smartphone control.
---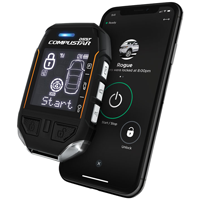 This kit is one of the industry's best remote start and car alarm combos! In addition to the 2-way T12 remote, you also receive a Drone X1 module. The inclusion of the Drone X1 adds smartphone vehicle control and GPS car tracking to your remote starter and car alarm. This kit is compatible with most vehicles on the road, including manual transmissions and diesels.
---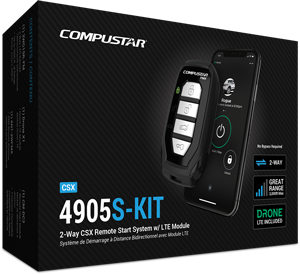 This 2-way remote starter comes with a water-resistant remote for all weather conditions! The CS4905-S-Kit works seamlessly with most vehicles and comes with a second remote to give to a loved one or keep as a backup. The remote boasts 3000' of range, perfect for remote starting from inside the home or office.
---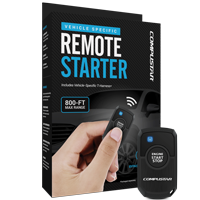 If you're looking for the basics, this is the system for you! This simple solution can upgrade nearly any vehicle with remote start. This sleek 1-button remote has 1000' of maximum range. What's the best part of this system? It's security upgradeable, making it perfect for someone who wants to build onto their system over time. 
---
Remote Start Upgrades and Accessories 
These accessories make great gifts for the Compustar fan in your life! Get one of these kits for your spouse (or maybe gift one to yourself) if they have an existing Compustar system, or if they're looking for standalone upgrades like car GPS tracking.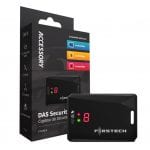 Looking to step up your vehicle security this winter? Look no further than Compustar's DAS-II shock sensor. This is a 4-in-1 shock sensor which detects two stages of impact/intrusion, tilt, forward motion, and glass-breakage. Once you have this device installed, you can enable security alerts on your Compustar 2-way remote and, if you have a Drone module, smartphone security alerts through the DroneMobile app.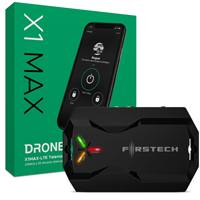 Want to add GPS tracking to your vehicle, but don't have a remote starter?  This module is for you. Want to add smartphone control to your remote starter or car security system, but don't need a new 2-way remote? This module is for you. The Drone X1 MAX is the best solution for someone looking to add a GPS car tracker or smartphone control to their vehicle.
Any of these kits or accessories above will take your vehicle comfort and security to the next level. Find your Local Authorized Dealer through our Dealer Locator today to get yours!