June 24, 2020
Compustar Remote Guide
Compustar remote start systems give you more control over your vehicle security, comfort, and convenience than anyone else in the industry. The wide variety of remotes we offer helps take your experience to the next level. No matter your preferences, we have a remote that will work for your budget and needs! 
Since we do offer a wide selection of remotes, you might be unsure of which remote is best for you. Consider this post the ultimate guide to every Compustar remote. As always, if you have any questions, you can reach out to our team through help.compustar.com or call up your local Authorized Dealer. 
Guide to Compustar Remote Features
Depending on the type of remote starter and remote start accessories you have installed in your vehicle, some remotes might be better for you than others. When you purchase a new remote, whether you're looking for a direct replacement or an upgrade, you can begin by reviewing which features you need to control. This process will help you significantly narrow down the selection process. 
Let's begin by going over all of the features your Compustar remote can have. Then, later on in the article, we map out which remotes come with which capabilities so you can choose the one that fits your needs.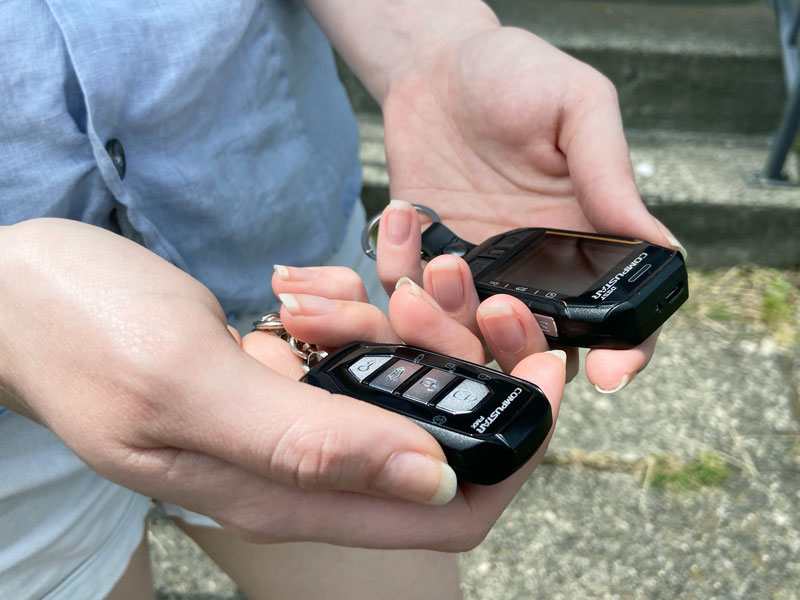 Remote Fob Range –

The amount of range you need depends on your lifestyle. One of the main reasons why people choose to get a new remote is for an upgrade in range. We're proud to offer a variety of remotes with ranges from a couple hundred feet to up to 3-miles. Much like with 2-way vs. 1-way remotes, the amount of range you should get depends on your needs.

LCD vs. LED –

LED remotes use a series of lights and beeps to communicate with the user, while the LCD remotes have a screen allowing for more advanced communication. For example, the 901 remote's LCD screen animates and the remote vibrates when you send a remote start command.

2-Way vs. 1-Way –

2-way remotes allow you to send commands to your vehicle and confirm when the command is successful. Some remotes will also notify you if your command has failed. On the other hand, 1-way remotes allow you to send commands, but you will not receive a confirmation when the command is received by the vehicle.

Security Alerts –

With your 2-way remote, you can receive alarm alerts, and even some more advanced security alerts. If you have shock sensors installed as part of your Compustar system, any 2-way LCD remote will notify you immediately.

Battery Type –

When you get a Compustar remote, you can choose between USB rechargeable and easily replaceable, non-rechargeable battery powered remotes.

Auxiliary Features –

Some of our remotes come with the ability to control Auxiliary Features, such as window roll-up/down, sliding doors, and trunk. 

Waterproof vs. Water Resistance –

Many of our remote kits now include remotes that are IPX-7 waterproof while some are water resistant. 
2-Way LCD Remotes 

Our LCD remotes are the most advanced we have to offer. These are the only remotes that give you control over the Auxiliary Features within your vehicle and advanced security alerts for incidents like triggered shock sensors. All LCD remotes are 2-way, and the PRO T12 has up to 3-miles of range, making it the remote with the most range. The durable casing of the LCD remotes means your purchase will last!
2-Way Pro LED Remotes
If you're looking for a powerful, yet compact remote, you can't go wrong with one of our 2-way PRO remotes. These accessories are only sold at our PRO Dealers who uphold our commitment to excellence. When you opt for a PRO 2-way remote, you'll get advanced range, reliability, and a 3-year warranty!
1-Way Pro LED Remotes

If you're looking for a compact, 1-way remote with a powerful amount of range, then a PRO 1-way remote might be for you! Again, just like with the 2-way PRO remotes, you can only find these remote kits at our PRO Dealers. The durable, water-resistant casing of these remotes means you won't have to replace your remote anytime soon.
2-Way Prime LED Remotes

PRIME 2-way kits are some of the most accessible, affordable 2-way remote kits we offer. This means you'll get the same sleek, durable designs, but at an accessible price point. These remotes have less range than the PRO 2-way remotes, making them a great choice for people who park close to the office or home.
1-Way Prime LED Remotes

These PRIME remote kits give you a great way to get to know your Compustar system. They might be more simple than some of our more advanced remote types, but they still get the job done!
Whether you're looking for the ultimate remote upgrade or a compact remote that meets your basic needs, Compustar has you covered! We make it simple to shop for replacement remotes. Simply visit shop.myfirstech.com to begin searching for your next remote. You'll need some system information handy, and if you need any help in the purchasing process, be sure to reach out to our team. Happy shopping!