February 4, 2023
Can I add Compustar remote start to my vehicle?
Compustar remote starters are a great way to enjoy the comfort and convenience of starting your vehicle from anywhere. But with many different makes, models, and vehicles on the market today, it can be difficult to know if a Compustar system will work with your car.
In this blog post, we'll explore all the factors that go into determining if a Compustar system is compatible with your vehicle and what you should look for when making your decision.
---
How do Compustar remote starters work?
Compustar remote starters work by sending wireless signals from a remote, or "fob" to an antenna and control module installed inside your vehicle. When the signal is received, the control module will safely start your engine, activating your vehicle's heating system and window defrosters.
On winter mornings or nights, Compustar remote start allows you to easily warm up your vehicle without needing to step outside into the freezing cold to manually turn on your engine.
---
Will Compustar remote start work with my vehicle?
Yes, Compustar remote start systems are universal, meaning they will work with almost any vehicle on the road. Compustar remote starters are compatible with over 90% of vehicles, including manual-transmissions, diesels, hybrids, and select European makes like Audi, VW, and Mercedes-Benz. Here's the full list of vehicle makes compatible with Compustar:
Acura 1988-Present
Alfa Romeo 2017-2019
Audi 2002-Present
Bentley 2017-2021 (Bentayga only)
BMW 2005-2016
Buick 1988-Present
Cadillac 1988-Present
Chevrolet/Chevy 1988-Present
Chrysler 1988-Present
Daewoo 1999-2002
Dodge 1988-Present
Eagle 1989-1998
Fiat 2011-2017
Ford 1988-Present
Freightliner 2007-2017
Genesis 2017-2020
GMC 1988-Present
Honda 1988-Present
Hummer 1998-2010
Hyundai 1988-Present
Infiniti 1990-Present
Isuzu 1989-2009
Jaguar 1999-2009
Jeep 1988-Present
Kia 1994-Present
Land Rover 2007-2012
Lexus 1990-Present
Lincoln 1988-Present
Mazda 1988-Present
Mercedes-Benz 2003-2021
Mercury 1988-2011
Mini 2007-2016
Mitsubishi 1990-Present
Nissan 1988-Present
Oldsmobile 1988-2004
Plymouth 1989-2001
Pontiac 1993-2010
Porsche 2003-2010, 2019-2020 (Cayenne only)
RAM 2010-Present
Saab 2005-2009
Saturn 2000-2010
Scion 2005-2016
Subaru 1988-Present
Suzuki 2004-2013
Toyota 1988-Present
Volkswagen 2002-Present
Volvo 2003-2016
You can learn more about how Compustar works with your specific vehicle make here.
Compustar also be added to vehicles with push-to-start or "push-button" ignition systems.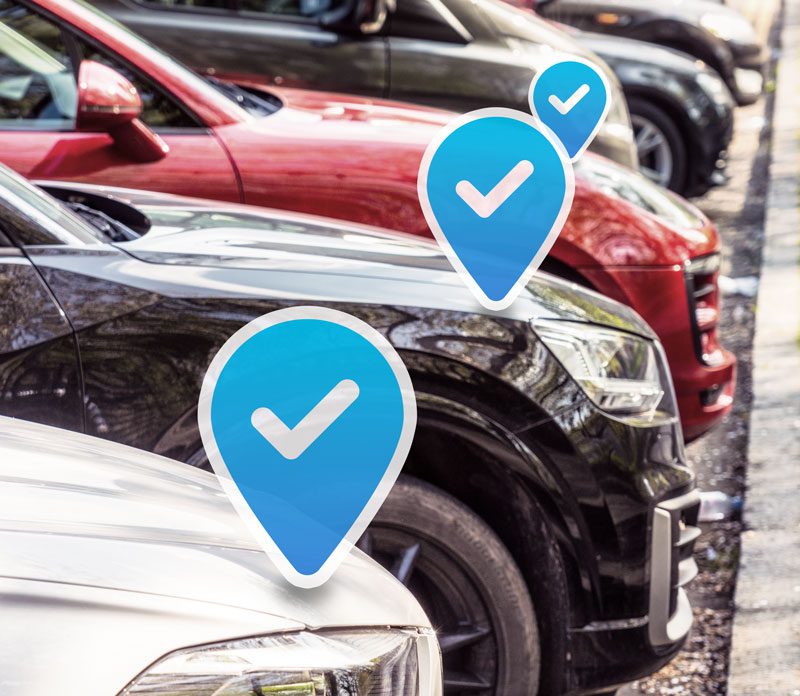 For most vehicles makes, Compustar offers wiring harnesses that use factory-style "T" connectors. These allow for a more seamless installation that reduces hardwired connections inside your vehicle. This is ideal for leased vehicles when easy removal may be necessary.
Use our Compustar System Builder to check if your vehicle is compatible >
You may be wondering, "So what vehicles are NOT compatible with Compustar?" Here are some categories of vehicles that Compustar does not generally support*.
Super-luxury or supercars (exception: 2017-2021 Bentley Bentayga)
All-electric vehicles, including Tesla or Rivian
Vehicles with carburetors
*In theory, Compustar remote start could be added to ANY vehicle. However, some shops may be wary of installing on vehicles that are extremely complicated or have limited documentation to support to install.
---
3 Main benefits of using a Compustar remote starter vs factory
Even if your car came with remote start from the factory, there are numerous advantages to upgrading your vehicle with a Compustar remote starter.
Superior range capabilities – Compustar remote starters are capable of ranges starting at 1,500 feet and go up to 3-miles with our PRO T13 and T11 models. In contrast, factory remote fobs are generally limited to about 50 feet of range.
2-way confirmation – Get visual and audible feedback whenever you start your car with your Compustar remote.
Adjustable engine runtimes – Compustar remote starters can be customized to run the engine for as long as you need it to! Most of our systems offer engine runtimes of 3, 15, 30, and 45 minutes.
---
What parts do I need to add Compustar remote start?
Depending on your place of installation, the parts needed to add a Compustar remote start to your vehicle may be bundled together OR sold as separate parts. Regardless of how they are packed, the required components remain the same:

Control module – This is the main part that is installed inside your vehicle. It has all of the inputs and outputs for connecting to different parts of your vehicle, from internal computers to door locks to parking lights.

Remote kit – This is remote and antenna that allow you to remote start and lock your vehicle from extended range.
Bypass module – This is another installed component that allows the Compustar remote start to safely integrate with your vehicle's internal computers. The most popular bypass modules are made by iDatalink.
(Optional) Vehicle-specific t-harness – As mentioned previously, Compustar offers wiring harnesses that use connectors that make your installation cleaner under your dashboard. For vehicle makes such as VW, Audi, BMW, a t-harness is required.
(Optional) Smartphone connectivity module – Connect any Compustar remote starter to your smartphone and control/track your vehicle with the DroneMobile app.
---
Can I install a remote starter by myself?
For Compustar systems, we do not recommend installing your remote start system yourself. Compared to other electronics, Compustar systems require more complex connections to different vehicle components, including the starter, CANbus network(s), parking lights, door locks, footbrake, etc. Most of these wire locations are only accessible with careful disassembly of your vehicle's dashboard and proper routing for a clean install.
Unfortunately, we still receive calls from people who are stuck with these types of disasters under their dashboard.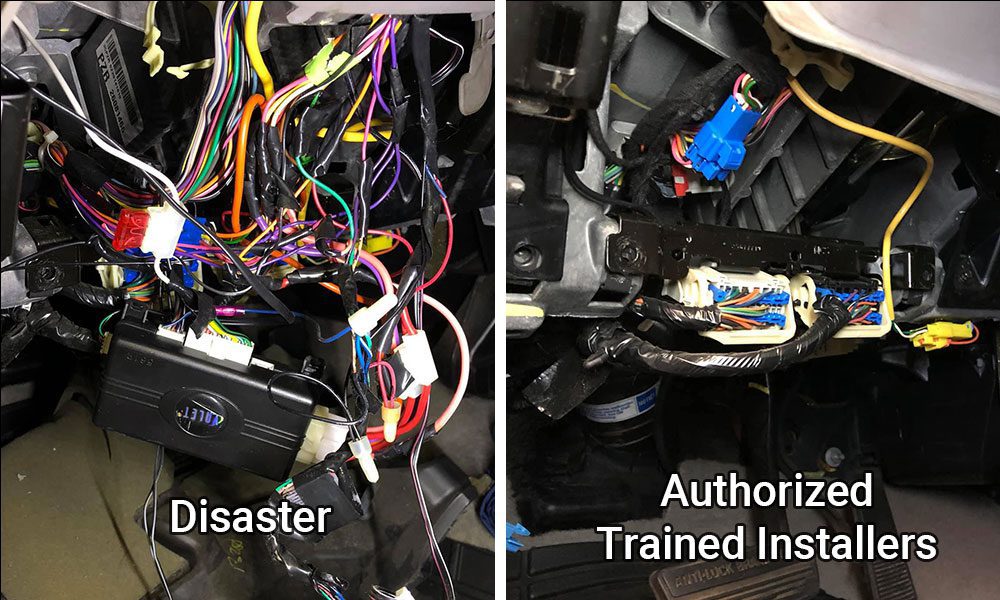 Instead, we recommend using our Compustar Dealer Locator to find an authorized, trained installer near you. Every year, we train thousands of technicians across North America on the safe installation of Compustar systems. Save yourself the hassle, and trust the pros to properly install your Compustar remote starter.