May 3, 2023
7 Best Car Alarm Features
Many car owners worry about their car's safety and security today more than ever. This is a valid concern as the National Insurance Crime Bureau reports over 1 million stolen vehicles in 2022 — a number that hasn't been reached in the U.S. since 2008. California, Texas, Washington, and Florida lead the nation with the highest number of motor vehicle thefts.
With a substantial rise in car theft, comprehensive security systems like the ones we at Compustar offer, protect your vehicle and alleviate the stress of being a car owner. Our advanced car alarms feature 7 important components that collectively work together to keep thieves away from your vehicle.
---
Control Module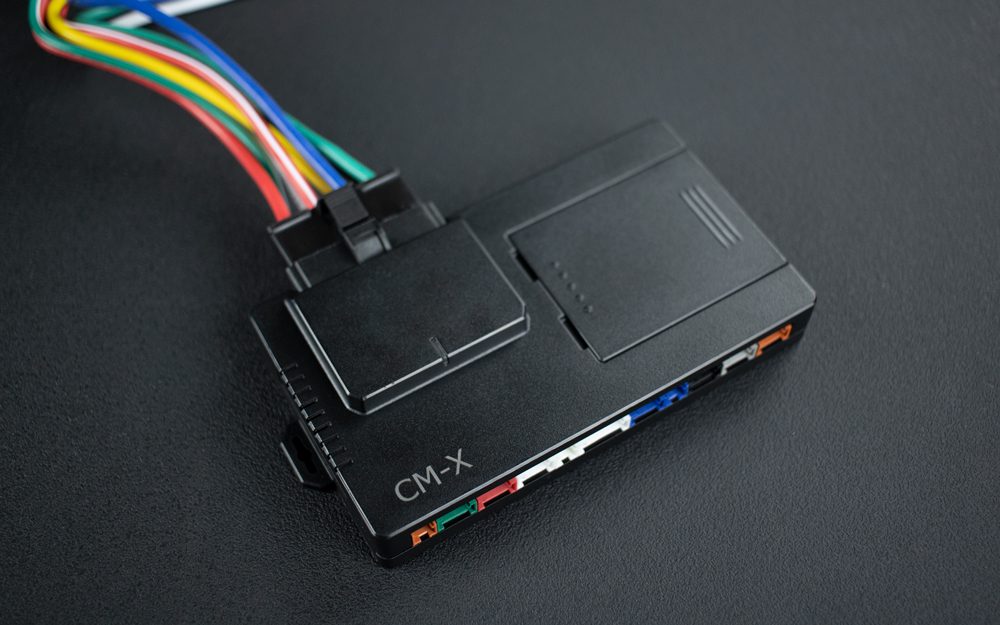 A remote start and security control module allows each part of a Compustar system to communicate with your vehicle. Much like the motherboard on a computer, the control module is the central communications hub on a Compustar system. The control module serves as a platform that connects all the individual remote start and security components to one another.
As an example, security sensors that detect vehicle impact or intrusion communicate back to the control module — signaling an alert to your 2-way Compustar remote. The control module also enables your remote to perform security and remote start functions on your car.
---
Bypass Module
Most modern vehicles are equipped with immobilizers designed to prevent a car's engine from starting without the factory key — making cars less vulnerable to theft. A bypass module acts as a bridge connecting a Compustar remote start and security system to your vehicle. The bypass module needs to be programmed or "flashed" with vehicle-specific firmware for the remote start and security system to properly send commands without the physical presence of a key
When it comes to security, a bypass module makes remote start possible while enhancing your car's factory alarm features. Compustar's advanced security sensors can be safely added to your vehicle without disconnecting any of the original factory anti-theft features with the use of a bypass module.
---
Security Sensor
Security sensors are essential to car alarms. After all, what's the purpose of a car alarm if your vehicle can't detect harm?
When paired with a Compustar 2-way LCD remote, the DAS-II 4-in-1 security sensor will notify you of any threats to your vehicle. The DAS-II features 4 security sensors that detect:
Impact/Intrusion (2 stages)
Tilt
Forward Motion
Glass Breakage
In addition to vehicle security, the DAS-II is a requirement for safe installation of remote starters in manual transmission vehicles. If you remote start while your vehicle is left in gear, the DAS-II will automatically halt your engine if forward motion is detected.
Learn more about DAS-II Security Sensor >
---
Alarm Siren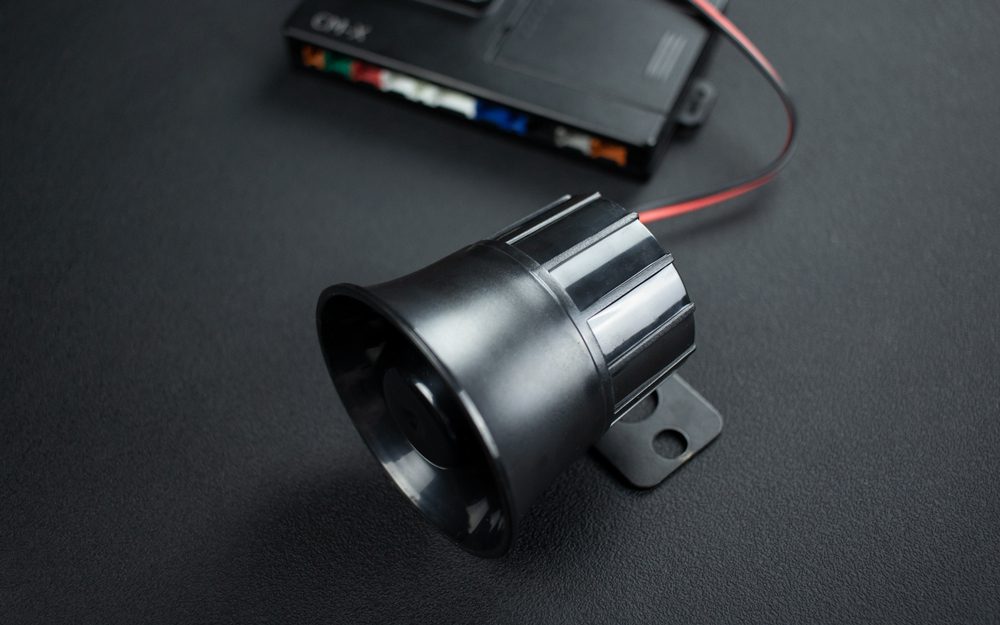 One of the first components that come to mind when it comes to car security is an alarm siren. Most factory car alarms simply use the vehicle's horn when your doors are forced open while your car is locked. A Compustar security system adds a loud 105+db siren that alerts anyone in and around your car's vicinity.
What makes our siren unique is that, unlike a traditional car alarm, a Compustar siren is paired with our 4-in-1 security sensors like the DAS-II. This means that the siren will blare when impact, tilt, forward motion, or glass break is detected. On top of that, Compustar installers will typically place the siren at its loudest position inside your vehicle — giving anyone who breaks into your car a terrible experience.
---
Starter-Kill
As its name implies, an engine starter-kill relay, or "E-LOCK" relay as we like to call it, prevents your engine from starting. When your Compustar security system is armed, this component safely disables your car's starter until you disarm the security system from your remote.
Adding a starter-kill to your vehicle is one of the best solutions for eliminating car theft. Even if a thief manages to get inside your vehicle, they won't be able to start the engine until the Compustar security system is disarmed.
---
2-Way Remote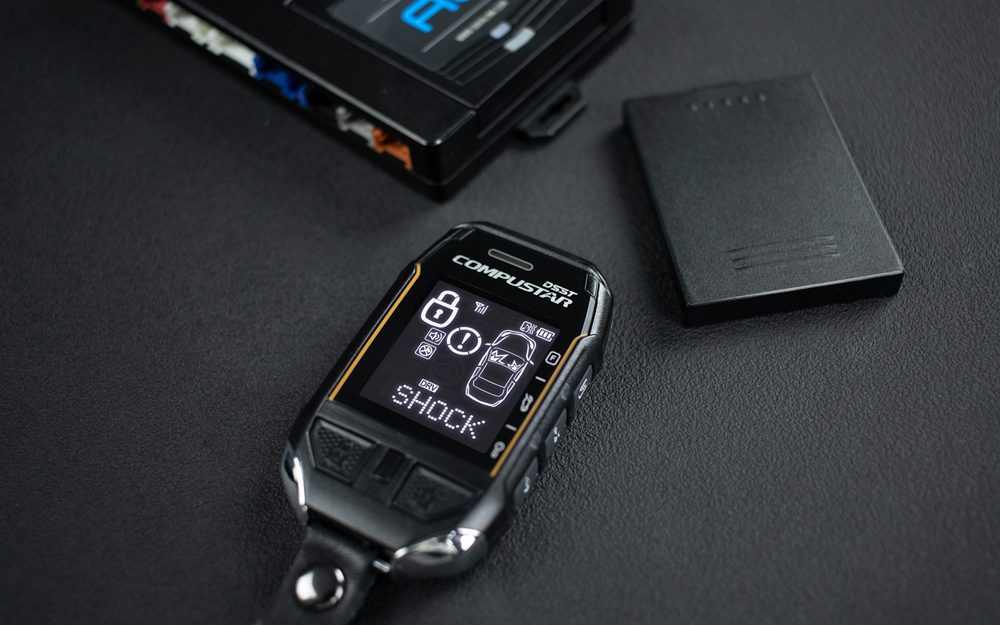 An effective security system isn't complete if you aren't notified when your car is in danger. A 2-way Compustar remote with alarm alerts solves this issue by signaling when your car alarm is triggered. Compustar remotes featuring 2-way alarm alerts communicate with the other security components on this list to notify you of any harm caused to your vehicle while you're away.
Compustar's LCD remotes can send commands and receive alerts from great distances. Our PRO T13 and T12 remotes have a max range of 3 miles — giving you plenty of security coverage. These 2-way LCD remotes give off distinct chirps, vibrations, and eye-catching animations to let you know exactly when your car may be in danger.
---
Smartphone Control
If you want even more range and security out of your car alarm, then DroneMobile is exactly what you're looking for! Many Compustar security systems come bundled with a Drone X1 LTE module for fast smartphone car connectivity. DroneMobile allows you to stay connected to your vehicle from anywhere with your smartphone with the DroneMobile App.
DroneMobile gives you unlimited range vehicle control, security, and the additional benefit of GPS tracking with a Premium DroneMobile subscription plan. Similar to a 2-way remote with alarm alerts, you'll receive alerts regarding your vehicle's security, directly to your smartphone via push notifications.
Try a free 30-day trial of DroneMobile with select Compustar security systems or learn more in the link below.
Learn more about DroneMobile >
---
Recommended Car Alarms
Below is a list of some of the best Compustar car alarms to keep your vehicle safe in 2023! These car alarm kits include many of the must-have car alarm features that we mention throughout this article.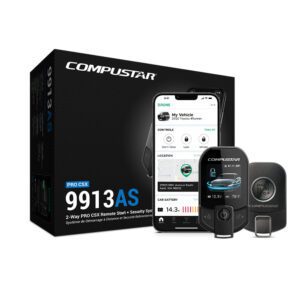 The CSXP9913-AS is simply one of the best remote start and security systems on the market! What makes this car alarm great is that the 2-Way PRO T13 remote included in this kit combines Compustar's latest comfort and security features into one sleek package.
CSXP9913-AS System Features:
3-Mile Max Range LCD Remote
2-Way Alarm Alerts
4-in-1 Security Sensor (detects shock/impact, tilt, forward motion, and glass-break)
Engine Starter-Kill Relay
Alarm Siren
Proximity Unlock
Includes PRO R5 Companion Remote
Smartphone Control with Drone LTE Module
---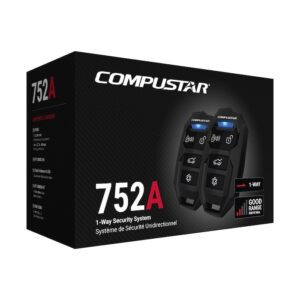 If you're looking to upgrade your factory security system to an aftermarket car alarm without breaking the bank, then the CS752-A is perfect for you! This car alarm includes two budget-friendly 1-Way remotes with the added benefit of a Compustar security system.
CS752-A System Features:
(2) 200 Feet Max Range Remotes
Dual-Stage Shock Sensor (detects shock/impact and tilt)
Tilt Sensor
Engine Starter-Kill Relay
Alarm Siren
---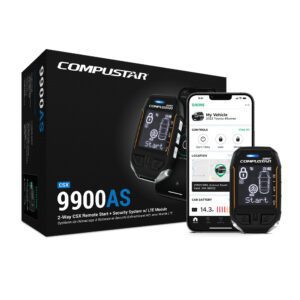 The CSX9900-AS is one of our most popular remote start and security systems to date – and for good reason. This alarm kit includes the long-range 2-Way Compustar T12 remote that's especially popular among truck owners due to its durability and rugged design.
CSX9900-AS System Features:
3-Mile Max Range LCD Remote
2-Way Alarm Alerts
4-in-1 Security Sensor (detects shock/impact, tilt, forward motion, and glass-break)
Engine Starter-Kill Relay
Alarm Siren
High-Strength Waterproof Remote
Smartphone Control with Drone LTE Module
---
Where to Buy a Compustar Car Alarm?
A Compustar car alarm protects your vehicle and gives you peace of mind — knowing that your car is safe! The 7 car alarm features that we mention in this blog post all work hand-in-hand to detect, deter, and provide you with the best solution to prevent car theft.
Check out all of our Compustar car alarm systems that include these security features by clicking the link below!